Royal Crown Derby is one of the oldest English porcelain factories still in existence today. Established in 1750, becoming Crown Derby in 1773 and Royal Crown Derby in 1890 the factory has an international reputation for producing some of the finest pieces of porcelain. Its ownership changed a number of times over the next two centuries, eventually being absorbed into the Royal Doulton Group of manufacturers. In 2000 Hugh Gibson, a previous director of Royal Doulton, took over and galvanized the factory by increasing production of the range of decorative paperweights first introduced in 1981. Often decorated with versions of the Imari pattern, glazed with rich colours and intricately gilded the vast selection have become very collectable ever since.
Golding Young & Mawer are offering at The Lincoln Auction Rooms on Wednesday 19th April what is no doubt one of the most comprehensive collections of paperweights to come on to the market in the country in recent years. The private collection was formed by a local businessman with a passion for buying the best he could afford throughout his life. Due to relocation he has reluctantly decided to part with his collection. Prices range from around £20 for some of the more common smaller pieces to in excess of £1,000 for the larger limited edition examples, with the vast majority still with their certificates and boxes. There will no doubt be a huge amount of interest from collectors worldwide.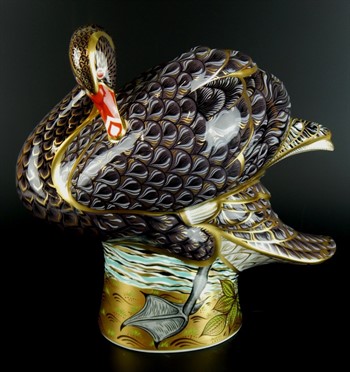 Also included in the strong silver and jewellery section of the sale is a very rare early 18th Century silver cannon handled spoon. Richly engraved with the coat of arms of Queen's College, Oxford and named Rob Rumney (Robert Rumney was an alumni at Queens from 1704 as a scholar, he then went to Cambridge and back to Oxford in 1719) this spoon is possibly his admission gift and was made by John Clifton of London probably in 1719.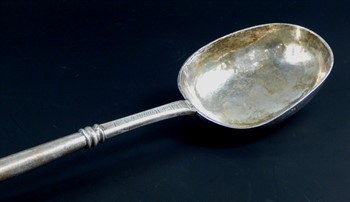 There a number of other highlights in the auction; more pieces again with the Thoresby Hall provenance such as an Edwards and Roberts French style display or bijouterie table with ormolu mounts and a French Charles X bed. Both are expected to command four figure sums. A Wedgwood Fairyland lustre vase designed by Daisy Makeig-Jones with the Candlemas pattern estimated at £700-900 and a wonderful pair of duelling pistols, made by perhaps the finest maker Robert Wogden, are also offered in the auction. Leica and other cameras and militaria to include medals make up a healthy section of collectables in the sale.
Overall with in excess of over 1000 lots in the live bidding antiques sale and over 500 lots in the general sale, the post Easter auction in Lincoln has quality and a range of goods to tempt most collectors.
The Collective Sale will be held on Wednesday 19th April from 10am. Viewing is on Tuesday 18th April from 10am until 4pm, and from 8.30am on saleday.