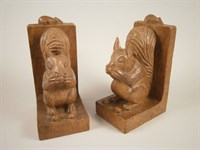 A pair of carved oak bookends by Robert 'Mouseman' Thompson will feature in the March sale at the Lincoln auction rooms.
The bookends, which are carved with a squirrel and acorns and feature Thompson's famous mouse trademark, will be one of the highlights of the sale at auctioneers Golding Young & Mawer on Wednesday, March 20.
Auctioneer John Leatt said: "The vendor inherited the bookends from a relative who had owned them since the 1960s. After researching them on the Internet, they spotted that Golding Young & Mawer had sold a similar pair in May last year and achieved an excellent price. So they approached us with a view to including them in a subsequent sale.
"As these bookends are early examples of the Mouseman's work and are in perfect condition, we are confident they will attract a lot of interest on sale day and have estimated they will achieve between £1,000 and £1,500."
In May 2012, a pair of Mouseman bookends featuring a squirrel sold for £1,600 at Golding Young & Mawer. They had been brought in to the auction room during one of is free Friday valuation mornings and had been estimated to sell for between £400 and £600. But fierce bidding between buyers in the room and on the Internet pushed the price up to £1,600. They were finally bought by a collector bidding over the Internet.
Robert 'Mouseman' Thompson (1876-1955) developed an interest in traditional furniture making techniques when he worked as an apprentice in his father's joinery business in Kilburn, North Yorkshire.
By 1895, he had taken over the family firm and was producing items of furniture inspired by the medieval carvings in village churches and nearby York and Ripon Cathedrals.
His carved mouse trademark signature began when one of his craftsmen commented that they were 'as poor as church mice'. He immediately carved a mouse on the church screen he was working on.
Thompson dedicated his career to producing simple, well-made pieces in English oak using old-fashioned tools such as the Adze, which is similar to an axe but with the blade set at a right angle to the shaft. This meant that much of his pieces have a rippled, uneven surface.



Elsewhere in the sale, an unusual novelty mantel clock in the form of a miniature Penny Farthing is estimated to sell for between £400 and £600. The clock was made in around 1900 and was retailed by a jeweller in Doncaster.
Meanwhile, three items of Whitefriars glass are expected to achieve good prices. The collection features a very large example of a green Drunken Bricklayer design by Geoffrey Baxter and a blue Banjo shaped vase which both have estimates of between £300 and £500. There is also an orange Hula Hoop vase with an estimate of between £150 and £200.
Three examples of Royal Doulton stoneware decorated by Hannah Barlow are estimated to sell for a total of between £300 and £1,000.
Collectors of local memorabilia will be interested in a pair of George III truncheons which were previously used by a police constable working in Leadenham and Ancaster in Lincolnshire. They are estimated to sell for between £400 and £600.
In the furniture section, a Regency rosewood and brass inlaid secretaire side cabinet is estimated to sell for between £600 and £800.
Amongst a large quantity of gold, silver and jewellery in the sale, a 1914 gold $20 coin is expected to sell for between £600 and £800 and there is also a 2008 gold proof collection set of coins ranging from £1 to penny coins.
There are also First Day Covers signed by Barnes Wallis and Leonard Cheshire of the Dambusters. The 70th anniversary of the Dambusters mission will be celebrated in May this year.
A Jaguar X-type 2 litre V6 Sport car in red with cream leather interior and with 75,000 miles on the clock is estimated to sell for between £600 and £800.
There is also a large quantity of Royal Doulton character jugs, Beatrix Potter figures, figurines, Coleport, early 20th century fishing tackle, militaria, model railway, coins and stamps.