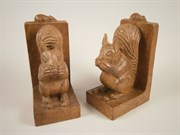 A pair of carved oak bookends by Robert 'Mouseman' Thompson sold for £1,300 in the March sale at the Lincoln auction rooms.
The bookends, which were carved with a squirrel and acorns and featured Thompson's famous mouse trademark, were one of the highlights of the sale at auctioneers Golding Young & Mawer on Wednesday, March 20.
Auctioneer John Leatt said: "The vendor inherited the bookends from a relative who had owned them since the 1960s. After researching them on the Internet, they spotted that Golding Young & Mawer had sold a similar but larger pair in May last year and achieved an excellent price. So they approached us with a view to including them in a subsequent sale.
"As these bookends were early examples of the Mouseman's work and were in perfect condition, we were confident they would attract a lot of interest at auction. By sale day, numerous telephone lines were booked and several other bidders had registered their interest.
"The bidding started on the telephone at £1,000 and after fierce competition, the bookends were finally bought by a bidder on the Internet for a hammer price of £1,300. The buyer was a collector who lives in North Yorkshire close to where Thompson worked."
In May 2012, a pair of Mouseman bookends featuring a squirrel sold for £1,600 at Golding Young & Mawer. They had been brought in to the auction room during one of its free Friday valuation mornings and had been estimated to sell for between £400 and £600. But fierce bidding between buyers in the room and on the Internet pushed the price up to £1,600. They were finally bought by a collector bidding over the Internet.
Robert 'Mouseman' Thompson (1876-1955) developed an interest in traditional furniture making techniques when he worked as an apprentice in his father's joinery business in Kilburn, North Yorkshire.
By 1895, he had taken over the family firm and was producing items of furniture inspired by the medieval carvings in village churches and nearby York and Ripon Cathedrals.
His carved mouse trademark signature began when one of his craftsmen commented that they were 'as poor as church mice'. He immediately carved a mouse on the church screen he was working on.
Thompson dedicated his career to producing simple, well-made pieces in English oak using old-fashioned tools such as the Adze, which is similar to an axe but with the blade set at a right angle to the shaft. This meant that much of his pieces have a rippled, uneven surface.
Elsewhere in the sale, a late 17th to early 18th century Flemish Coffre Fort or travelling strong box sold to a buyer in the room for £3,300. The box, which had an estimate of between £800 and £1,200, had olive oyster veneers, foliate straps, hinged carrying handles and a later oak stand with bulbous turnings and bun feet.
Mr Leatt said: "This was a rare item and an unusually large example of its type. It was made of wood, iron and brass and featured two metal bolts which meant it could be bolted to another piece of furniture or to the floor when travelling round."
Meanwhile, an unusual novelty mantel clock in the form of a miniature Penny Farthing sold for £400. The clock was made in around 1900 and was retailed by a jeweller in Doncaster.
Three items of Whitefriars glass made good prices in the sale with interest from buyers on the Internet and in the room. A very large example of a green Drunken Bricklayer design by Geoffrey Baxter sold for £450 to a commission bidder, whilst a blue Banjo shaped vase sold for £700 against a £300 to £500 estimate and an orange Hula Hoop vase made £130. Both the latter vases sold to a collector in the room who had travelled a considerable distance to attend the sale.
A Doulton Lambeth stoneware biscuit barrel and cover decorated by Hannah Barlow sold for £300 and another Doulton Lambeth plaque by the same artist sold for £260.
A private collector bought pair of George III truncheons, previously used by a police constable working in Leadenham and Ancaster in Lincolnshire, for a hammer price of £500.
Amongst a large quantity of gold, silver and jewellery in the sale, a 1914 gold $20 coin sold for its top estimate of £800 and a 1978 United Kingdom gold proof collection of 'Embelms of Britain' coins ranging from £1 to one penny coins sold for £2,300. Both lots were bought by a buyer from Lincoln.
Three lots of ivory figures made good prices in the sale. An Indian ivory figure carved with two lovers on a hardwood stand, with an estimate of £50 to £100, sold for £650. Meanwhile, an Indian ivory table lamp decorated with dancing girls and trees on a hardwood base made £420, against an estimate of between £40 and £60, whilst another similar lamp decorated with figures, fighting tigers and elephants with an estimate of £200 to £300 sold for £420.
An album of British stamps, including various Victorian stamps, sold for £500, against an estimate of £150 to £250 and a large green turtle shell, with an estimate of between £100 and £150, made £420.
A Jaguar X-type 2 litre V6 Sport car in red with cream leather interior and with 75,000 miles on the clock sold for £1,000, against an estimate of between £600 and £800.
In the furniture section, a Regency rosewood and brass inlaid secretaire side cabinet sold for £500.