A weekend of antiques raised much needed funds for charity Riding for the Disabled on 11th and 12th July at Manor House Farm, Queniborough.
The event which was organised by Lincolnshire auctioneers, Golding Young & Mawer included a Country House sale which sold over 900 lots mainly from the estate of Marguerite Vera Boulter, and a charity appraisal day. Overall the weekend raised well in excess of £500 for Riding for the Disabled.
"We had a lovely day. Colin kept us all well entertained and we met some super people to talk to. I learned a lot about antiques and was really pleased with the outcome of the fundraising." Stated Pat Bishop, Chair of the Trustees at The Mount Group Riding for the Disabled.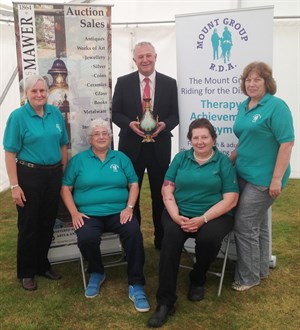 Manor House Farm was a hive of equestrian activity in its heyday, and the hunting theme was represented in most sections of the Country House sale, from three scarlet Quorn hunting coats that made a combined figure of £310 to a collection of preserved fish with good London names that stole the show – nine cases selling for over £16,000, most to buyers from the US. Elsewhere in the sale the family Victorian mahogany dining table and set of ten chairs sold for a combined total of £3,000 and the opening lot an Art Nouveau style bookstand made £550. Despite requiring significant restoration, visitors galloped into the spirit of the event and the very grand Steinway table piano sold for £1350, more than double its estimate.
Auctioneer Colin Young said: "There is something quintessentially English about a Country House sale that attracts people from all walks of life; looking for something different to the antiques and collectables you would usually see within the provincial salerooms around the county. The marquee was packed, capturing the imaginations of the locality as well as bidders from as far and wide as the USA and Russia. It was great to see many new faces looking not only for expensive antiques and collectables but affordable domestic and practical items too."
On day two of this antiques extravaganza TV antiques expert Colin Young and his professional team offered antiques roadshow style appraisals in the marquee for the public in exchange for a small donation to Riding for the Disabled. Pleasant surprises came in many shapes and forms as the experts unearthed 'Derby' treasure in the form of a good pair of Royal Crown Derby vases and a suite of Victorian jewellery which will be sold in the next sale.