Retro/vintage is not an era we usually class as antique within the saleroom, but this has not stopped buyers, collectors and interior designers flocking to sales of 1970s goods.
Nostalgia for the decade is mixing with a renewed interest in the designs and artwork that are unique to the 1970s and this is sure to be reflected in high value and demand within the next sale at the Grantham Auction Rooms on December 4.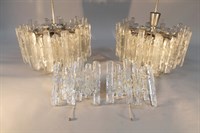 Retro highlight, Lot 372, a pair of chrome and moulded-glass chandeliers made by Austrian firm Kalmar looks set to attract particular interest. These beautiful chandeliers are in the style of renowned glass designer Peter Tysoe and come with matching wall lights.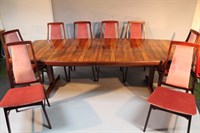 Also set for some lively bidding action is Lot 807 a large rosewood dining table and eight matching chairs dating from 1970. This beautiful collection was produced by Heal's - the iconic London department store that until the 1980s also made high quality furniture.

Saleroom manager Andrew Doubleday stated: "The table itself is the best we've seen in the Grantham Auction Rooms, both in terms of its style and the quality of the rosewood top."
Elsewhere within the sale are Lot 361 a John Russell design part coffee service and Lot 324 a Portmeirion phoenix coffee service designed by John Cuffley. Both designers are well recognized and the phoenix pattern in particular is often associated with this era.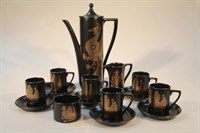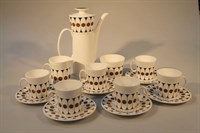 There will be plenty more examples of the best the 1970s has to offer at the sale, thanks to a rapidly expanding market for retro/vintage items from the period - in particular teak furniture, Dinky toys and vinyl records.
This sale catalogue can be viewed online at www.goldingyoung.com. Viewing will be open at the Grantham Auction Rooms on December 3 between 10-4pm and before the sale on December 4.