A charming selection of artist sketch books and signed story books from popular children's author and illustrator Rene Cloke is set to sell at the Grantham Auction Rooms on January 15.
Rene Cloke (1905-1995), who spent most of her life in London, was a very popular illustrator of childrens books, postcards and greetings cards. She was also known for writing her own childrens poems and short stories.
Her work can be seen within childhood classics such as Wind in the Willows, Alice in Wonderland, Enid Blyton's Brer Rabbit stories and Snow White and the Seven Dwarves.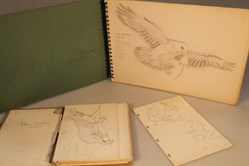 Lot 182 contains a selection of her sketch books covering the 1950s through to the early 1990s. The sketch books contain pencil drawings - though there are a few watercolours - of people, animals and flowers.
Also included are a large selection of children's books. Several including Alice Through the Looking Glass, Fairies & Giants, Patricks Caravan, No Dogs Please, Clickweed, Sleeping Beauty & Other Tales and Little Folks Book of Nursery Tales are signed by Rene Cloke.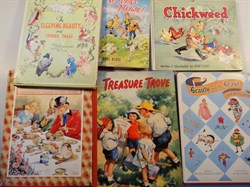 Saleroom manager, Andrew Doubleday said: "Rene Cloke is a highly collectible illustrator whose value will only increase as time goes by. Whilst the collection doesn't contain any original illustrations of her work, the variety and playfulness of the sketches within the sketch books will make a sound investment for any collector of books, illustrations or childhood ephemera."
The full sale catalogue can be viewed online. Viewing will be open at the Grantham Auction Rooms on January 14 between 10-4pm and before the sale on January15.