The Grantham Auction Rooms has a bustling pre-Bonfire Night auction on Wednesday 4th November, as big as any seen in recent history. This one day affair contains the usual mix of items and again has something for everyone. A thriving silver and jewellery section caters for those after early Christmas presents, a book section to humble most libraries, paintings cover most of the saleroom walls and if all else fails there is a fabulous furniture section filled with antiques and later items.
Something that should definitely not be used to light a fire 24 hours later is Lot 398, the Queen Anne double cushion bureau bookcase. Of ugly proportion is most certainly is not ... it is small, high quality, high class and at around the £2,000 mark an absolute bargain!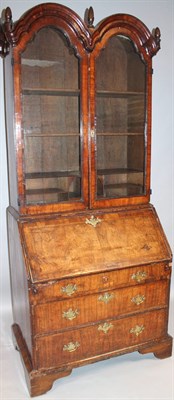 The silver section is fabulous, along with a number of coins and a good selection of general gold to include wedding bands to keep all of you budding Robert Catesbys in business – it is also a superb time to buy and keep gold as the scrap value is nearly as low as the walnut bookcase mentioned above!
As usual, the collectable area has some notable high points. This month's delights revolve around several medal groups, all from different sources of interest and all to tempt the budding and professional buyers alike.
Lot 1 starts the sale in good fashion. An African conflict and later medal group awarded to H T Gasson, a soldier who received many awards and promotions in his time; his group includes six main medals. He was even mentioned in dispatches.

An eight medal World War II group makes up Lot 2A and Lot 6 is comprised of one of the typical good lots of mixed medals and ephemera to interest even the most stringent of collectors.
The good items do not stop there; from twin pillar extending dining tables to Heal's chairs, to large and extensive Lladro and Nao collections, Derby, Lowry prints and so on there is as usual something for all in this biggest of 900 plus lot extravaganzas.
The sale is at The Grantham Auction Rooms on Wednesday, 4th November at 10am. Viewing is on Tuesday 3rd November from 10am to 4pm and from 8.30am on saleday. This is a one day sale, so all items will be sold on the Wednesday.