One of the earliest Lincoln City Football Club season tickets known to have come onto the market is going under the auctioneer's hammer.
The 1901-1902 season ticket, which belonged to Mr A.B. Smith of 12 Vernon Street, Lincoln, was brought into one of auctioneer Golding Young & Mawer's free Friday morning valuation clinics. It will now feature in the next sale on Wednesday, June 19.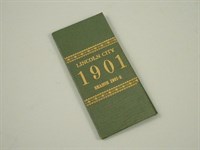 Auctioneer John Leatt said: "The season ticket was inherited by the vendor from her mother who was a life-long Lincoln City fan.
"We have never handled such a rare season ticket before. Quite often, Lincoln City Football Club programmes will appear on the market but it is almost unheard of for a season ticket to appear as they were often thrown away at the end of each season.
"This example will appeal to collectors and historians because of its rarity and its excellent condition. We have estimated it will sell for between £40 and £60 and are expecting a great deal of interest on sale day."
The season ticket was issue number 10 and was signed by W. Halkes, one of the directors of the football club. At that time, the club chairman was J. H. Strawson and the treasurer was a Mr Taylor.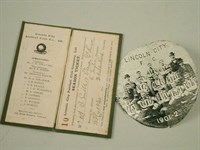 Lincoln City Football Club was officially formed as an amateur association in 1884, even though it had been playing as a team from the 1860s. The club turned professional between 1891 and 1892 when it won the Lincolnshire Senior Trophy for the second time in five years.
Between 1892 and 1893 the club was one of the founder members of the Second Division and in 1895, it moved to Sincil Bank from the John O'Gaunts ground.
In the 1901 to 1902 season, the club achieved its best ever League position to date - fifth in the Second Division. The Imps reached also reached the last 16 of the FA Cup - another achievement that has never been equalled - eventually losing to Derby County.
Elsewhere in the sale, an artist's aerial view in watercolour of the Lincoln city centre, consigned by a local collector, is estimated to sell for between £50 to £80. The painting, which shows the city from St Marks Railway Station in the south to Newport Arch in the north, is believed to date from the 1930s and is estimated to sell for between £50 and £80.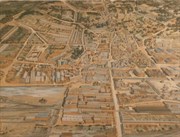 A late 19th to early 20th century Lincolnshire Regiment helmet complete with silver plated fittings, badge and characteristic spike on top is also offered for sale. This 'rare survivor' has been consigned by a local collector and is estimated to sell for between £50 and £100.
A collection of medals awarded to a Sergeant G. E. Hawkins of the Durham Light Infantry has been consigned by a relative from Lincoln who feels it is the right time to pass them on to a collector. The lot is being sold with various items of memorabilia belonging to Mr Hawkins including a first aid box, a sling, field dressings and papers relating to his wartime career. It is estimated to sell for between £500 and £800.
Among the clocks, a French porcelain and brass clock garniture has an estimate of £1,500 to £2,000.
A mid-19th century Italian micro-mosaic panel, which has been entered into the sale from a deceased estate near to Lincoln, is estimated to sell for between £200 and £400. In January this year, a mid-19th century Italian tortoiseshell snuff box with a micro-mosaic panel top sold for £4,000. The box attracted fierce competition from international collectors during the auction and was finally bought by an Italian collector bidding over the phone.
The sale also features collections of porcelain including Lladro, Royal Doulton, Royal Worcester and Beswick, silver and jewellery, long case clocks, fishing tackle and a private collection of scientific instruments.