A series of rare glass panels commissioned for a Nottingham pub look set to go under the auctioneer's hammer.
The panels, which were removed over 20 years ago from The Toby Jug public house in Friargate, Nottingham, will be lot 1 in the next sale at auctioneers Golding Young & Thos. Mawer's Grantham saleroom on Wednesday, April 6.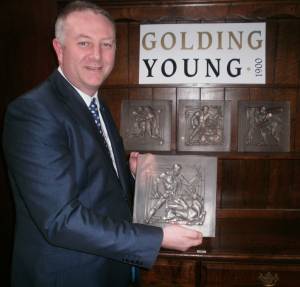 Auctioneer Colin Young (pictured) said: "These panels come with an excellent provenance and hopefully collectors will be excited by their rarity and history."
The display of glass panels consists of a range of muted colour panes together with a selection of molded iridescent panes featuring Toby Jugs as pattern breakers. However, the most prized part of the display is a selection of 'Vesta' glass by the Birmingham factory of John Walsh Walsh.
These panes come from the series depicting 'The Twelve Labours of Hercules', the design of which emanated from sculptor Walter Gilbert, and is molded with mark 'G.Sc.R.fec'.
Mr Young added: "Walsh Walsh's 'Vesta glass' appears to have been a limited product between 1929 and 1932. The Toby Jug was refurbished in 1931 and it is likely that these were a commission at that time."