A 500-year-old fertility drum will be one of the most unusual lots in a special two-day sale at the Lincoln auction rooms.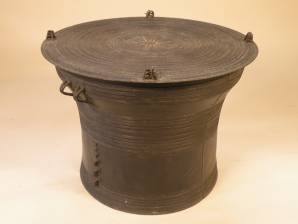 The musical drum, which is decorated with four sets of three mating frogs, is estimated to fetch between £600 and £800 in the sale on Tuesday and Wednesday, October 13 and 14.
Auctioneer John Leatt said: "This drum is very rare and unusual and I have certainly never seen one before.
"It has come from a substantial country house in Derbyshire and we expect a lot of interest from collectors on sale day."
The Sino-Shan bronze drum comes from Laos and has four sets of three mating frogs around its top.
According to R. M. Brown's Bronze Drums of Laos, most of the drums originate from the Kha people who live in the hills and mountains of northern Laos, east of Ban Houie Sai and west of Luang Prabang. Commonly know as Kha drums in Laos, they are related to the idea of fertility and are always decorated with bronze frogs on the top, the symbol of water and rain.
One-frog drums date from around 700 years ago and are the most ancient; two-frog drums date from 600 years ago and are the rarest. The drum in the sale features three-frogs which means it is around 500 years old.
When suspended by its handle, the sound of the drum is said to be like the roar of thunder of the bellowing of a bullfrog, a bringer of rain.
The sale also features an oil on canvas titled 'Tilbury on the Thames' by Claude T. Stanfield Morre (1853-1901), dated 1879, which depicts a Russian cargo ship probably seized during the Crimean War being towed by a tug into Tilbury.
The inscription on the back, which reads 'Tilbury fort with police station formed out of a Russian prize', is believed to mean it is going to be broken up and the timber used to build a police station.
It is painted in the style of Turner's 'The Fighting Temeraire' and is expected to fetch between £2,000 and £3,000.
Also in the pictures section, a pair of late-17th century school oil on canvas portraits of the sons of Joshua Acklam in the manner of Sir Peter Lely are estimated tofetch between £4,000 and £6,000. The portraits of two young boys have come from the Neville
estate and are believed to have hung in Wellingore Hall in Lincolnshire. One shows a young boy seated on a cushion and holding a dove; the other shows a boy feeding a parrot.
Among the antique furniture in the sale, a wardrobe and pair of single beds made by Robert 'The Mouseman' Thompson of Kilburn, West Yorkshire, are set to attract a lot of interest. A carpenter who worked in churches, Thompson got his nickname because people said he was quiet as a church mouse. His signature was to carve a mouse into his work.
Mr Leatt said: "The detail in the mouse carving on these pieces shows they are early works. We estimate the wardrobe to fetch between £1,500 and £2,000 and the pair of beds to fetch between £800 and £1,200."
A George III architects table made by famous maker Gillows of Lancaster is expected to fetch between £6,000 and £8,000. It was previously owned by Miss E.A.S. Neal who lived at Keeton between Newark and Nottingham.
Meanwhile, an early 18th century oak gate-leg table in good original condition and unusual because it is almost circular and large enough to seat 10 to15 people, is estimated to fetch between £5,000 and £8,000.
A pair of Martinware vases, incised and painted with flowers, are estimated to fetch between £1,000 and £1,500.
A creamware mug made by the Leeds Pottery around 1800 and unusually decorated with a huntsman and his dog is predicted to fetch between £500 and £800.
A full catalogue is now available on-line at www.thosmawer.co.uk For more information phone (01522) 524984.