The first sale of 2015 at The Bourne Auctions Rooms was an outstanding success. In the run up to the sale there were over 300 buyers registered online from across the globe. However, it was the volume of bidders in the saleroom that was the real surprise. There is always a lot of activity in January and February as people get past the Christmas withdrawal symptoms for auctions as seen at Grantham on the 7th. Just before the sale started it was more than encouraging to see the saleroom packed with buyers with all seats taken and standing room only. The only negative for the January sales is the lack of volume entered due to Christmas closure. So with only 538 lots to be offered the good news was there was actually room to stand.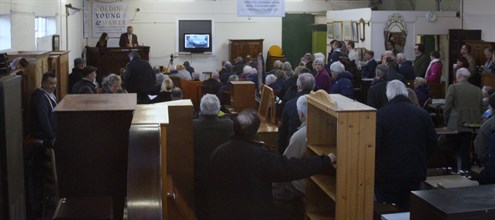 The sale had a flying start as the gold and silver price had just risen in the previous few days and Engelhard silver kilogram ingots were selling at £380 / £400 each.
Traditional antiques were well fought for with a good example of a Victorian parquetry tea caddy (Lot 10) selling for £210. A Royal Worcester oil lamp (Lot 38) which was not of the most desirable shape and form, still headed to an above estimate £240.
Moving on to furniture, it is perhaps time to kick out all of the old clichés. Victorian furniture faired well with a mahogany wind-out dining table (Lot 56) which had previous struggled to achieve interest now had multiple bidders taking it to £850. Retro furniture was once more flavour of the month with a Newton & White sideboard (Lot 196) again having much competition and achieving £240.
We often overlook modern and general furniture in reporting, but as long as there is quality in the manufacture there will always desirability from buyers. A bedroom suite retailed by the local AHF took many admiring glances and even more bids to £260.
An auction sale is never complete without a good variety of collectors items. The choice lots from this sale included a collection of David Bowie and Beatles records and associated items. As you would expect it was The Beatles that stole the stage with Lot 19, a collection of records, realising £250. From paper collectables, a group of RAF stamps (Lot 94) sold for £280 and there were other collections of stamps and first day covers in the sale. Two notable collections of FDC's sold for £480.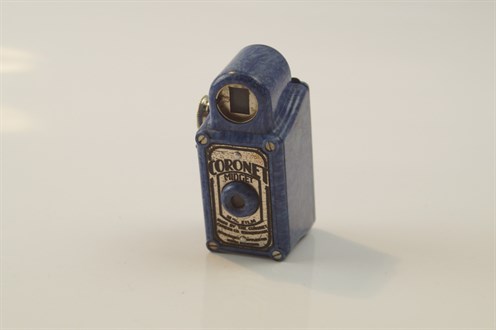 A beaming auctioneer Colin Young said 'If there was one lot in the sale that was a statement piece for the rest of it, it was Lot 123. A Coronet Midget bakelite camera which in the more common colours realises around £40 was taken to a new level with the rarest blue model selling for £290'.
Whilst the sale was small with only 538 lots on offer there were only 33 lots unsold with a sale rate of almost 95% showed that Bourne has started the year with a bang and continuing to produce result after result. The next sale is on Wednesday 11th February, and already includes notable consignments of automobilia and the residual contents of an old rectory. Further entries are now invited.