A collection of railway memorabilia fetched over £6,000 in the March sale at the Lincoln auction rooms.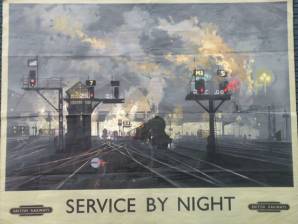 Railway enthusiasts and collectors turned out in their droves to bid for original drawings and plans, parliamentary records, posters, benches and books at auctioneers at Thomas Mawer and Son of Portland Street on Saturday (March 6).
Most of the items belong to two Lincolnshire collectors - a former British Rail employee who had salvaged posters and train time tables during his working life, and a collector with an interest in local history.
Before the sale, auctioneer John Leatt said: "We've never seen a collection like it! Some of the items are extremely specialist and it's been very difficult to find similar examples of this type of railway ephemera that have come onto the market before.
"Many of the lots are museum quality and we expect interest both locally and nationally from collectors, railways enthusiasts and museums."
The highest price achieved for a single item was £750 for four leather bound folios of Midland Railway Land Plans from Lincolnshire Nottinghamshire and Derbyshire, dated 1903 to 1904, which were estimated at £100 to £300. The plans showed land around the Saxby to Bourne line, the Tibshelf Sidings to Pleasley, Mansfield to Rollerston and Sutton Junction to Worksop.
A British Railway 'Service by Night' poster, which was based on an original painting by the famous wildlife artist David Shepherd in 1955, was expected to fetch between £200 and £300 and made a hammer price of £500.
Meanwhile an L.N.E.R. poster titled 'East Coast Occupations, Boatbuilding', based on a painting by Frank H. Mason fetched £220 and another poster titled 'East Coast Havens, Lincolnshire, Motor Fishing Vessels at Boston', which was also based on a painting by the same artist, fetched £75 due to its poor condition.
Three large Victorian mahogany railway benches from the waiting room at Boston Station fetch £480, a cast iron sign stating 'Any person who omits to shut and fasten this gate is liable to a penalty not exceeding 40 shillings' fetched £130 and another black and yellow enamel 'Beware of Trains' sign fetched £60.
A book titled 'Golf at its Best on the L.M.S.' by Dell Lee, published in 1925, which provides a guide to golf courses around the country reached by travelling on the railways fetched £60.
A collection of bygone items from the collection of the late-local historian and author of the 'Lincoln as it Was' series, Lawrence Elvin fetched over £260. Among the collection two books on the history of Ruston and Hornsby, 'One Hundred Years of Good Company' and 'Our Part in the Great War', fetched £95 and a series of ephemera relating to Mr Wilson Blaze, a baker with premises at Burton Road, Lincoln, fetched £85.
Meanwhile, a collection of books and ephemera relating to airships and Zeppelins fetched £300. It included various copies of Airship magazine from the 1930s and '40s, an album of cuttings dated from 1937 relating to the Hindenburg disaster, a copy of 'Airships and Balloons' by G. G. Jackson and other ephemera.
Two early 19th century albums of postcards, including some cigarette cards, fetched £300, whilst a collection of postcards relating to cruise and steam ships including the 'Ocean' and 'Lusitania' fetched £75.
Among the ceramics, china and pottery in the sale, an Art Deco-style Royal Albert 'Virginia' tea service for six, which featured butterfly shaped handles, fetched £380, well above its £80 to £150 estimate.
A series of Suzie Cooper ceramics made over £1,200 with the highest prices paid for a studio vase decorated with leaves and vertical banding fetching £150, a cream and green studio vase signed and dated 1932 fetching £125 and a blue glazed jug incised with a ram at £120.
Among a collection of Crown Ducal pottery decorated by Charlotte Rhead, a jug painted with entwined branches and red and purple flowers and a matching charger fetched £240.
A series of Martinware-type figures by Burslem Pottery fetched a total of £2,160, with the highest prices achieved for a figure of a grotesque owl fetching £500, a bird called 'Duke' and another called 'Duchess' fetching £350 in total and a vulture which made £140.
A Royal Doulton 'Titanium' patterned small square vase decorated with a swan and signed 'Henri' fetched £420.
Elsewhere, a 19th century mahogany square piano by Thomas Tomkison Soho fetched £1,050.
The next sale will be held on Saturday, April 10. A full catalogue will be available online a week before the sale at www.thosmawer.com For more information phone (01522) 524984.