Railway enthusiasts, collectors and museums will be all aboard the Lincoln auction rooms when a collection of railway memorabilia goes under the hammer.
The collection, which includes original drawings and plans for many local and national railways, parliamentary records, posters, benches and books, will be featured in the next sale at auctioneers at Thomas Mawer and Son of Portland Street on Saturday, March 6.
Auctioneer John Leatt said: "We've never seen a collection like it! Some of the items are extremely specialist and it's been very difficult to find similar examples of this type of railway ephemera that have come onto the market before.
"Many of the lots are museum quality and we expect interest both locally and nationally from collectors, railways enthusiasts and museums."
He added: "The items have come from two different Lincolnshire vendors. Some of the railway posters and books are from a local deceased estate of a former British Rail employee who salvaged items during his working life, such as posters from the 1960s detailing services on a particular day and 1950s train time tables; other lots have been entered into the sale by a collector with an interest in local history."
Among the lots are a series of original leather bound plans and maps detailing the routes of railways, the land around them and the bridges which cross over them. One lot features folios of Midland Railway Land Plans from Lincolnshire, Nottinghamshire and Derbyshire dated 1903 to 1904 which is estimated to fetch between £100 and £300. In particular it shows the land around the Saxby to Bourne line, the Tibshelf Sidings to Pleasley Junction Colliery to Skegby.
Another series of five plans being sold as one lot are the North Eastern Railway plans of surplus land sold in Northumberland, Durham, Westmoreland and Cumberland. There is also a folio, dated 1884, containing bridge designs and drawings of Yorkshire including the Snydale branches, the Hunslet to Whitehall Junction, West Riding lines, and also Shipley to Bradford.
Among the documents is a series of 19th century parliamentary records mostly relating to the Oxford, Worcester and Wolverhampton Railway Company, including railway bills, details of extensions, statements, lists of owners, minutes of evidence and other documents.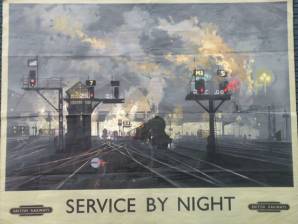 Some of the most colourful and collectable lots are the railway advertising posters which are expected to draw in national collectors. A British Railway 'Service by Night' poster, based on an original painted in 1955 by the famous wildlife artist David Shepherd, is expected to fetch between £200 and £300. Whilst an L.N.E.R. poster titled 'East Coast Occupations, Boatbuilding', based on a painting by Frank H. Mason, is also expected to fetch between £200 and £300.
Another poster titled 'East Coast Havens, Lincolnshire,Motor Fishing Vessels at Boston', also based
on a painting by Mason, is expected to fetch between £80 and £100 due to its poor condition.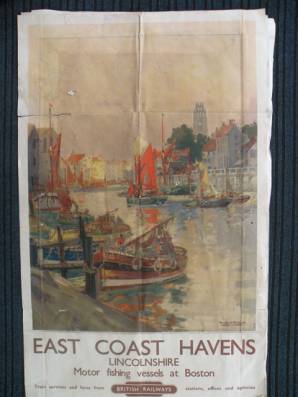 One of the most interesting posters is an 'Important Notice' from L.N.E.R. poster notifying passengers that due to the civilian evacuation of certain East Coast towns on Home Office instructions, a number of ordinary passenger and goods train services have had to be suspended. It is estimated to make between £40 and £60.
There are also three railway map posters produced by British Railways which depict towns and landmarks - one titled 'A Map of Lincolnshire' shows bathing at Skegness, Heckington Windmill, Boston Stump, Lincoln Cathedral and Gainsborough Old Hall. A further two map posters show the counties of Cambridgeshire and Huntingdon and highlight towns and cities such as such as Wisbeach and March in the Isle of Ely, Peterborough and Godmanchester in Huntingdonshire and Newmarket and Linton in Cambridgeshire.
There are also three large railway benches from the waiting room at Boston Station, one of which is stamped 'GCR' for Great Central Railway and a cast iron sign stating 'Any person who omits to shut and fasten this gate is liable to a penalty not exceeding 40 shillings' which is expected to make between £60 and £80.
Another penalty notice which originally hung in Saxilby Station, near Lincoln, is expected to fetch between £100 and £150.
Among the books are old copies of Designs for the British Railway Southern Region for Locomotives, Great Western Railway Locomotives from the 1940s and also a Book of Designs for the L.M. and S.R. (London Midland and Scottish Railways).
Another book titled 'Golf at its Best on the L.M.S.' by Dell Lee, published in 1925, is expected to fetch between £50 and £80. The book provides a guide to golf courses around the country reached by travelling on the railways.
A full catalogue will be available online a week before the sale at www.thosmawer.com For more information phone (01522) 524984.