Historical items, including a pair of bookcases owned by Princess Margaret, will come under the hammer at a country house sale to be held at Holywell Hall, Holywell, near Stamford, on Wednesday, September 25, at 10am.
The Holywell Hall sale will see antiques, works of art, modern furnishings & interiors, and outdoor effects being auctioned.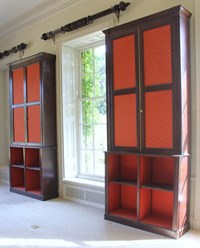 Perhaps, the most exciting lot (121) in this sale is a pair of Regency oak bookcases, once owned by Princess Margaret. The bookcases were commissioned by Augustus Frederick, Duke of Sussex (1773-1843) for his library in Kensington Palace, where they remained until they were dismantled by Princess Louise, Duchess of Argyll around 1940.
Richard Plant, consultant auctioneer and valuer for Golding Young & Mawer, said: "These bookcases are of outstanding provenance. They were made in the early 19th century and were originally fitted but converted to free standing at some point. They have moulded cornices, above a pair of brass-grille doors, and are painted with inventory numbers and with property labels for HRH Princess Margaret."
They are expected to realise between £10,000 and £15,000.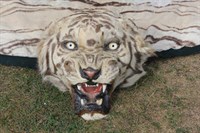 Other lots of interest include an antique Tiger skin rug (lot 47a), estimated at £1,000 to £1,500, a large mid-17th Century Verdue Aubusson tapestry, of a house and lake scene with swan, expected to make between £7,000 and £10,000 (lot 67) and an oil painting by Constance Pitcairn (1853-1913) of Queen Victoria at the Carisbrooke fete (lot 272), which has an estimated price of £6,000 to £9,000.


Viewings will take place at Holywell Hall on Sunday, September 22 from 1pm-5pm, Monday, September 23, 10am-4pm, Tuesday, September 24, 10am-1pm and on the sale day from 8.30am-10am.
For more information contact Golding Young & Mawer on 01476 565118, or visit www.goldingyoung.com.