The residual contents of a 'grand country house', Orston Hall in Nottinghamshire, will be featured in a special two-day sale at the Lincoln auction rooms.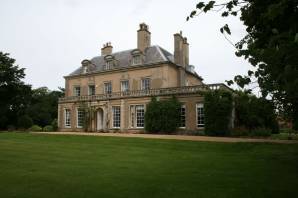 The property belonged to businessman Barry Gibson and his family for over 50 years until his recent death when the hall was sold.
The contents will now be featured at auctioneers Thomas Mawer & Son of Portland Street on Tuesday and Wednesday, October 13 and 14. As well as being able to bid in the room and over the telephone, buyers will be able to bid and win lots from the comfort of their homes anywhere in the world as the sale will go live on-line.
Auctioneer John Leatt said: "For over 50 years Mr Gibson lived at Orston Hall and filled his home with furniture, ceramics and works of art worthy of an English country house.
"We are delighted to have been asked to sell the contents of the hall and are sure the sale will attract a lot of interest from collectors and antiques enthusiasts alike."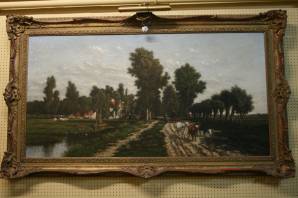 Among the items in the sale is an original watercolour of an 11th Hussar (Prince Albert's Own) by Orlando Norie, dated 1880, from The Parker Gallery in London and an oil on canvas by Johan Nicolaas Van Lokhorst (1837-1874) titled 'The Eye of the Village, cattle in a land' in a gilt swept frame (above) which is estimated to fetch between £2,500 and £3,500.
There is also a 19th century French giltwood armchair which is estimated to fetch between £500 and £800 and a Regency mahogany and satinwood cross-banded sofa table, which stood in the Drawing Room at Orston Hall, is estimated to fetch between £1,000 and £1,500.
Meanwhile a large George III mahogany sideboard on turned legs is expected to fetch between £800 and £1,000 - the sideboard features a set of Kings Pattern silver plated cutlery given to Mr and Mrs Gibson as a wedding present in 1956.
One of the most unusual items is a late 19th century blacksmith-made house fire engine which was discovered in one of the stables at the hall. Auctioneer John Leatt said: "Most large country houses would have had their own fire engines at times when the fire service was not widely available. This one would have been made by the local blacksmith out of cast and wrought iron. I have never known one to be sold on the open market but we estimate it will fetch between £200 and £300.
"We expect there to be interest from collectors and also from National Trust-type properties and museums who might want to put the fire engine on display."
Another interesting 'find' from the Orston Hall stables is an Edwardian goat cart used for pulling children around which the family had inherited. It is expected to fetch between £150 and £250.
Mr Gibson bought Orston Hall, with its separate cottage and 158.5 acres of land, at auction in 1956 for £13,500. At the time he felt it was vindication for his grandfather who had once been wrongly accused of pilfering by his employer, the grocers Burton's in Smithy Row, Nottingham, and sacked from his job.
Incensed, he set up in competition with the firm,establishing A.B. Gibson, a grocers and provisioners in Nottingham marketplace. The business was a success and was handed down through the family until Barry
Gibson was asked to take the helm in the 1940s when his father died. Mr Gibson left his duties in the 11th Hussars to run the business.
Then in 1956, Orston Hall was set to be sold at auction after its owner Frank Burton had died - the Burtons were the same grocers who had sacked Mr Gibson's grandfather all those years ago. Mr Gibson bought Orston Hall and felt it was vindication for the memory of his grandfather.
During Mr Gibson's career he was responsible for bringing the cash and carry chain Macro into the UK in the 1970s. He eventually sold A.B. Gibson in 1973 to the Argyll Group which owned Safeways.
Mr Gibson's daughter Sophie said her father would have been a career soldier had he not be been called to run the family business. She added: "My father loved the army and just a couple of years ago visited the Battlefields of the Crimea with his friend, Patrick Mercer MP for Newark and Retford. He also loved the countryside and was a big shooting and racing man and competed in point-to-point horseracing in his heyday.
"When he semi-retired in the 1970s, he bought Green Hedge Farm in the next village which is still farmed by my sister Emma and her husband John.
"He lived at Orston Hall the whole time and was a lovely man who was very sociable. He had a lot of friends of different age ranges and loved throwing parties. He had a very good heart and was the local church warden and a member of the Royal British Legion."
Orston Hall itself has an interesting history, having been built in the late-17th century and benefiting from the addition of its grand frontage in the mid-18th century and a billiard room in 1919.
According to 'Orston: A Nottinghamshire Village Through the Centuries' by Paul Barnes, the hall was a rectory house originally owned by the Dean and Chapter of Lincoln which also owned the church even though it was not in its diocese.
In 1809, the hall was sold at auction to Nottingham banker Mr Middlemore and then bought by farmer William Marshall in 1857. After 1872, it was occupied by Mr Marshall's daughter and son-in-law John and Mary Fisher. In the 1900s it was lived in by the Burton family until 1956 when Mr Gibson bought it.
Alasdair Dunne, partner in the National Estate Agency Department of Strutt and Parker LLP of Market Harborough, Leicestershire which sold the hall, said: "The Vale of Belvoir is a fascinating and beautiful part of the world. Historically, the residential development that has taken place in the Vale was directly related to the Duke of Rutland and his seat, Belvoir Castle.
"Whilst there are of course many delightful farmhouses, wonderful rectories, not to mention some superb barn conversions, what you don't often see is grand country house with grounds to match. Orston Hall is one such house and the appetite to own it has been particularly keen."
The new owners of the hall, who have asked to remain anonymous, said: "We are very much looking forward to moving into such a beautiful, historic property. It is an idyllic place for the children to grow up in."
A full catalogue for the October auction at Thomas Mawer and Son will be available on-line a week before the sale. For more information log-on to www.thosmawer.com or phone (01522) 524984. Live bidding will be available viawww.the-saleroom.com