The life of German music box manufacturer Polyphon Musikwerke may have been shortlived but the beautiful sound produced by their music boxes will remain with us for many years to come.
Lot 12 from the July Collective Sale at The Grantham Auction Rooms is a fine example of their work, dated circa 1900-1910, the golden era of music box making.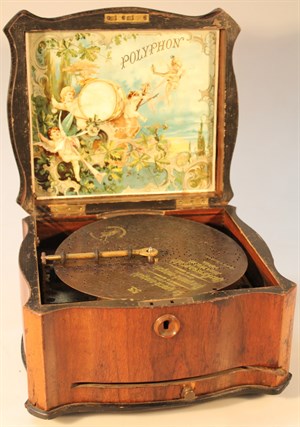 This particular music box comes with a serpentine fronted walnut case and highly decorated interior.
"It would appear the Germans are better at more than just football." said Auctioneer Craig Bewick "The music box plays like a dream, even in bad weather and works very well. It's a high quality item which we expect to make between £100-£300 in the saleroom. A bargain at any price!"
The sound quality is superb, click on the video above to listen for yourself!
Who will be the lucky bidder.........take a sneak peak at what happened on auction day!