A glass plate made to commemorate the death of one of Lincolnshire's most famous men is to go under the hammer.
The plate, which was bought recently at a carboot sale for less than £5, will be featured in the next sale at auctioneers Thomas Mawer and Son of Portland Street on Saturday, October 2.
Auctioneer John Leatt said: "We believe this plate was made to commemorate the centenary of the death of Matthew Flinders.
"It is a collectors' piece and we are expecting lots of interest from local people because of Flinders' status as one of the county's most famous men.
"The plate was purchased recently at a carboot sale for less than £5 and we believe it will fetch between £30 and £40 on sale day."
The glass plate is engraved with a map of Australia and Flinders' ship HMS Investigator, andreads: 'Matthew Flinders 1774.1814. Commander of HMS Investigator. The First Person to Circumnavigate Australia 1801. 1803.'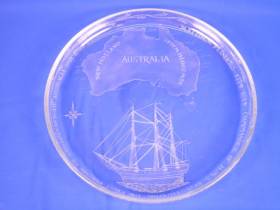 Born in 1774 in Donington, near Spalding, Lincolnshire, Matthew Flinders was the first person to circumnavigate Australia and the person who suggested that 'Terra Australis' be named Australia. As captain of HMS Investigator, Flinders sailed around Australia between December 1801 and June 1803, charting and surveying the entire coastline as well as islands, bays and headlands.
He named several places after members of his crew, including Memory Cove which he named after eight men who drowned whilst searching for fresh water, the harbour Port Lincoln after his home county and a group of islands after the botanist Sir Joseph Banks.
The most unusual item in the sale is a Tomahawk head from the Ogalala Sioux Indian tribe which was found by a farmer in Williston, North Dakota and given to friends in Lincoln as a gift. Now mounted on a base, it is expected to fetch between £20 and £50.
The bygones section also contains a collection of model railway items including Britons diecast vehicles, kitchenalia, a collection of over 100 '2000AD' comics which are expected to fetch between £80 and £100, and first day covers of stamps and coins.
Among the pictures are two of Lincoln by the artist A. E. Dobdinson which depict the Glory Hole and the Minster from Broadgate and are expected to fetch between £30 and £50.
The furniture section contains two Victorian mahogany haberdasher's display drawers, labelled as 'Pollards Patented Kwikserving Fixtures' made by E. Pollard and Co of Clerkenwell, London, which are expected to fetch between £500 and £800 each. The free standing units are popular with fashionable shops, as unusual kitchen storage units or for collector's display cabinets.
There is also an early 19th century mahogany and brass military chest which is expected to fetch between £200 and £300. It would have been used by officers as they travelled around various military campaigns.
There are several dining room tables in the sale, including a Victorian walnut extending dining table on turned legs with one loose leaf, which is estimated to fetch between £400 and £600, and an Edwardian mahogany oval table on heavy cabriole legs, which is expected to make between £250 and £300. Meanwhile, a very good quality reproduction dining room suite in George III style, which includes an extending dining table, six chairs including two carvers and a sideboard, is expected to fetch between £300 and £500.
Entries are still being invited for the four-day antique sale at Golding Young of Grantham on November 3 and 4, and Thomas Mawer and Son on November 5 and 6.
For more information about sales at Thomas Mawer and Son, phone (01522) 524984 or log-on to www.thosmawer.com.