The sale at Lincoln Auction Rooms on January 29th saw one lucky bidder go away with a genuine piece of musical history in the shape of a Fender Precision Bass guitar.
Designed by legendary guitar man Leo Fender, the Fender Precision Bass first hit the market in 1951 and was one of the first electric bass guitars to gain popularity, inspiring a generation of musicians to take up the instrument.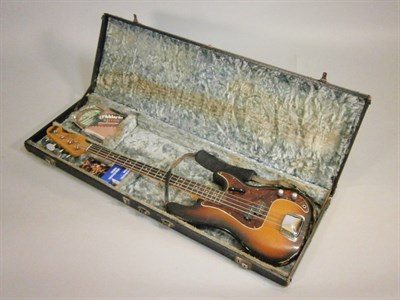 This particular example was brought in to a Lincoln Auction Rooms valuation morning by a woman whose husband played the instrument in a number of local bands. Although showing some signs of wear and tear the instrument was still in good condition and attracted a great deal of attention at auction.
A local collector finally snapped up the piece for £2200 after ten commission bids and a lively battle between internet bidders and those in the room.
"Bass guitars of this vintage have become increasingly scarce," says Lincoln saleroom manager John Leatt, "so to have one in such original condition is now very rare and unsurprisingly it attracted a lot of attention at auction."
The saleroom is now accepting consignments for the February Collective sale which will take place on February 26.