A collection of Peter de Wint paintings from the estate of a well-known Lincolnshire doctor will be sold at auction in Lincoln.
A President of the Heckington Show, the late Dr Frank Pinchbeck served the community of Heckington as a GP for around 40 years. During that time, he collected paintings by the watercolourist Peter de Wint, Newhall Porcelain, silver and antique furniture. Now his collections will be featured in the next auction at auctioneers Golding Young & Mawer on Wednesday, November 20.
Auctioneer William Gregory said: "Dr Pinchbeck was a very well respected member of the community who had a passion for antiques. His collection of Peter de Wint paintings are testament to his interest in art and antiques and we are delighted to be able to offer his collections in the next auction."
Born in Grimsby in 1936, Dr Pinchbeck went to Winterton Grammar School and studied medicine at Sheffield University. As a newly qualified GP, he moved to Heckington, near Sleaford in 1962/63 to serve the local community and was the driving force behind the village's first purpose-built surgery which opened in 1989.
A stalwart of the Heckington Show, he served nearly 50 years as medical officer, chairman and in later years, President. He was also a district councillor for many years and helped to create the Pearoom Craft Centre.
In his retirement, he enjoyed his garden, working for the National Trust at Belton House and spending time with his family including his children, Charles, James, Laura and Caroline.
Among over 120 lots from his estate, there are five watercolours by the artist Peter de Wint which are estimated to sell for between £500 and £1,500 and include a painting of Caldicot Castle and Cirencester Church. Born in Hanley, Stoke-on-Trent, Peter de Wint (1784-1849) is one of the finest watercolourists of his generation and is particularly associated with views of the landscape around Lincoln where his wife's parents lived.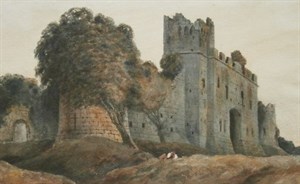 There is also a collection of Newhall Porcelain including teapots, cups and saucers and plates, a nine carat gold paperclip estimated to sell for between £80 and £120 and a collection of 30 lots of silver including vesta cases, candlesticks and a large collection of modern silver photograph frames. There is also a statue of Mercury and a smaller example of the same statue in Continental silver.
Among the lots in the sale from other vendors, there is a testimonial book given to Mr and Mrs George Beckett of Overstrand in Norfolk on their retirement in September 1926. The couple were the Post-Master and Post-Mistress who sent the message from Winston Churchill, then the Lord of the Admiralty, to mobilise the fleet in 1914. The book is estimated to sell for between £50 and £100.
Included in a section of over 250 lots of pictures are watercolours by Thomas Bush Hardy, the Gainsborough artist Karl Wood and two oil paintings of moonlit scenes by Samuel Pether.
In the collectibles section, there is an early Sheffield United football programme dated 1916, a number of cameras including a Leica, several lots of Marvel and DC Comics and model railway locomotives and accessories.
There are also a number of sets of early 20th century Britains lead soldiers, die cast vehicles, teddy bears and other toys.
The fully illustrated online catalogue is available to view online.