Our fourth sale of the month was the January Antiques, Fine Art, Silver & Jewellery Catalogue Sale at Bourne on Thursday 18th January.
"It was a perfect storm of buyers with private collectors, dealers and connoisseurs filling the saleroom, bidding by telephone and online around the world; each being of equal importance" - said Prinicpal Auctioneer Coling Young, reflecting on the fact Golding Young is truly an international firm of auctioneers.
The first important instruction of the month was the collection of Mrs Joy Scarcliffe and her lifelong passion for traditional antiques. With almost 200 lots ranging from enamel signs to wool & silk work pictures, 19th century equestrian portraits, pottery and her favourite Georgian Welsh dresser (Lot 135), which sold for £1,200. It was fondly remembered at viewing by many 'old school' dealers that called to see her and her partner Fred Wilkinson in Castle Bytham back in the 1970s and 80s.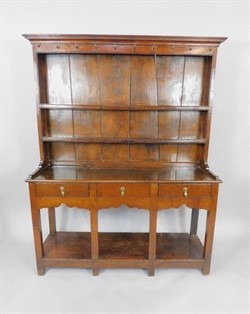 The sale at Bourne also included the residual contents from an old vicarage in Buckingham, which again held traditional antiques such as a Queen Anne or George I walnut wingback armchair (Lot 160), selling for £3,200.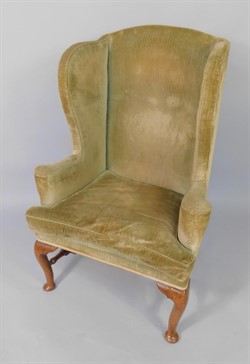 The sale continued with a collection of modern Moorcroft pottery, with 35 lots realising just over £4,700; the star item was a Lot 268, a rare Spanish design baluster vase, 23cm high, selling for £850.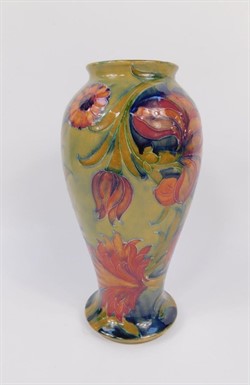 The diversity of the Bourne Sale was underlined by a travelling showman's painted trunk (Lot 712), selling for £420, an Edward VIII postal pillar box (Lot 706) that sold for £1,100, a bird handled whalebone walking stick (Lot 699) £1,900 and the gun sight from a 1943 Spitfire (Lot 692) for £360.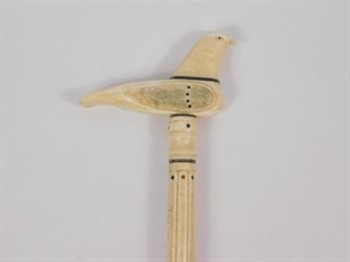 The prime instruction in the Bourne Sale was upon instructions from the executors of John Hewley Baines and namely the contents of his Lincolnshire home at Latimer House in Heckington. The family was historically recorded at Bell Hall, Naburn near York, with records going back to 1421.
The sale included an excellent selection of family portraiture over the generations, together with other artworks, Chinese export ceramics and quality Georgian furniture, of which an undoubted style grouping was the mahogany dining table and 19 chairs, which sold for an aggregate of £6,200 (Lots 554 and 555).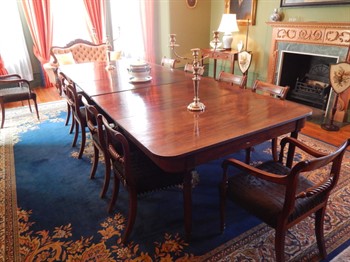 Predictably the family silver did include examples from the York assay office, which closed in 1858. Of the York pieces, Lot 355, a wine funnel by James Barber and William Whitwell, of only 15cm high and 3½ozs, sold for £440, bearing the assay mark for 1819. Many other silver lots outstripped their estimates that again were a marker for the rest of the month.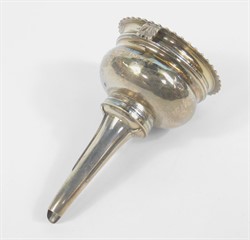 Another area of great interest was the militaria, including tailcoats selling for £1,300 and £1,500. A collection that concluded the day's sale in a timely manner (only 5 minutes before the Book Sale was to commence!) with six wristwatches by Rolex, Omega, Longines and Waltham of which Lot 665, a 1970s Flight Master topped the dials with a £3,000 result.