The evening auction sale saw buyers in the saleroom, on the telephones and bidding live via the Internet. The highest prices were paid for four original paintings by the artist at the sale at auctioneers Golding Young & Mawer on Wednesday, November 26th.
Auctioneer William Gregory said: "Vincent Haddelsey was a Lincolnshire-born artist whose works are building in popularity. All the works in this latest Fine Art Auction were sold on behalf of an estate and we certainly saw a great deal of interest for his paintings on the view days and at the auction."
The first lot by Haddelsey in the sale, an oil on canvas titled 'The Hunt over the Fields', sold for £1,300, whilst 'Coldstream Guards', an oil on board which was signed and dated 1970, made £400.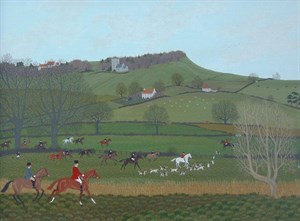 'Polo Match' made £1,300, whilst an oil on canvas titled 'French Hunting Scene' sold for £1,200 against an estimate of £600 to £900.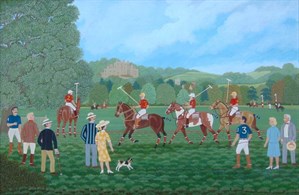 Born in Grimsby in 1934, Vincent Haddelsey lived at Canwick, near Lincoln, as a child, and enjoyed riding with the Blankney Hunt and being on foot with the Cranwell Beagles. During his early career, his work was sold at a gallery on Lincoln's Steep Hill and some of his paintings featured Lincolnshire scenes, including 'The Blankney at Canwick Hall', 'King's Troops rehearsing before the Lincolnshire Show' and 'Polo Match at Belvoir Castle'.
Vincent was a self-taught artist who acquired a love of horses at a young age and travelled the world in pursuit of his subject matter. He studied horses and landscapes in Mongolia, China, India and Chile, participated in the rodeo in Mexico, rode with hounds in Europe and show jumped in England and Canada, all the time painting the scenes he saw.
Preferring to be known as an 'equestrian painter' rather than an artist, he exhibited widely, wrote and collaborated on books about his work, and has paintings included in the Royal collection among others. He died in Paris in August 2010.
In total 300 lots of paintings and prints were featured in the sale and among lots by other artists the highest price paid was £1,500 for a signed oil on canvas titled 'Maiden in floral cottage garden' by Henry John Yeend King (1855-1924). The painting was consigned by a local vendor and sold to a buyer bidding over the Internet.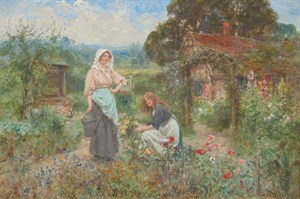 Meanwhile, 'Red Planet 2' by the local artist Peter Lightfoot (b.1932), dated 1972, sold to a buyer in the room for £650.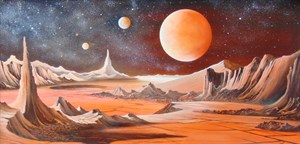 Another highlight of the sale was the oil on canvas 'Harbour scene with masted and paddle ships' by the artist John Wallace (1841-1905) which sold for £700, more than doubling its lowest estimate of £300.
A painting of 'The Thames, London' by Hercules Brabazon Brabazon (1821-1906) sold to a commission buyer for its top estimate of £800.
Signed works by the artist Laurence Lowry (1887-1976) continue to attract significant interest with 'St Simon's Church, Salford' (print number 52 out of 300) selling to an Internet bidder for £850, against a £300 to £500 estimate.