A collection of scale models of stationary engines left in a shed for over 50 years will feature in the next sale at the Lincoln auction rooms.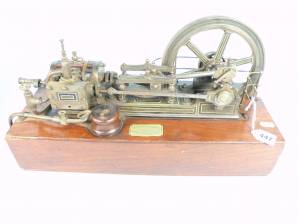 The five 20th century models were bought at auctions in the 1950s and '60s by a retired engineer from Lincolnshire who placed them in his shed for safe keeping. He found them again recently whilst having a clear out.
Now over 50 years later, the dusty engines have soared in value and popularity. They are expected to fetch between £100 and £500 each in the next sale at Thomas Mawer and Son of Portland Street, Lincoln on Saturday, May 8.
Bidders worldwide will be able to watch the sale and bid live online via an Internet bidding system.
Auctioneer John Leatt said: "These models rarely come up for auction and it is very unusual to find so many in untouched condition. The vendor only found them again after clearing out his shed.
"He only paid a few pounds for each model in the '50s and '60s and was surprised to hear they have gone up so dramatically in value today. There is a very keen market for such items and we expect a great deal of interest from enthusiasts on sale day."
Of the five scale models and another live steam
model of a locomotive placed in the sale, the most valuable is a model stamped with the maker's name, 'J.W. MacDonnell of Stockton on Tees', which is expected to fetch in excess of £300.
There is also a model of a spirit fired single cylinder steam engine complete with boiler and another model of a single cylinder compound engine.
A full catalogue will be available online a week before the sale at www.thosmawer.com For more information phone (01522) 524984.