A collection of antique medical instruments fetched over £700 in the first sale of the New Year at the Lincoln auction rooms.
The 15 lots, dating from the late-19th century to the 1960s, attracted bids from as far as Canada when they went under the hammer at Thomas Mawer and Son of Portland Street on Saturday (January 9).
Auctioneer John Leatt said: "There was a healthy interest in the medical instruments before the sale with several bids left on the book. On the day, two local collectors fought off competition to win most of the lots between them."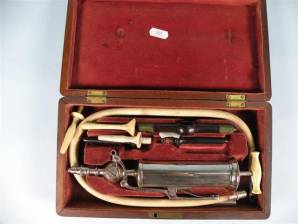 The highest price was paid for the most unusual item in the collection - a 19th century silver plated and ivory enema with bone attachments made £110, just over its highest estimate.
A late 19th century to early 20th century metal irrigation syringe by Down Bros of St Thomas Street, London, in a fitted mahogany case made £50 and a 19th century metal trephine (a cylindrical blade used for cutting bone) with a turned rosewood handle fetched £70.
A medical cabinet in a fitted mahogany case containing bottles, jars and an allergy testing set by Duncan, Flockhart and Co of London and Edinburgh and retailed by Allen and Hanburys fetched £85.
The bygones section of the sale also included a brass theodolite with silvered dials by Negretti and Zambra of London which fetched £180, a 19th century brass microscope by R and J Beck Ltd, London, in its original mahogany case with a 1.30 Reichert Wie extra lens made £120 and a Victorian brass portable microscope in a mahogany case fetched £185.
Among the glass in the sale is a red studio glass vase by renowned artist Samuel Herman, dated 1972 and estimated to fetch between £60 and £80, made a hammer price of £100. Herman is described as 'one of the key figures in the history of studio glass' and founded the Glasshouse in London's Covent Garden in 1969, the first glass studio of its kind in the country.
In the furniture section, a near pair of Victorian mahogany bedside cabinets made more than twice their highest estimate of £150 to £200 to fetch a hammer price of £440 and a Victorian painted pine linen press, estimated to fetch between £100 and £150, fetched £280. Meanwhile a 1920s to '30s limed oak and rosewood banded bedroom suite, possibly by Heals, fetched £250 and a Victorian painted pine linen cupboard, which had been estimated at between £100 and £150, sold for £280.
In the jewellery section, a single stone diamond and gold ring fetched £200.
The next sale will be held on Saturday, February 6. A full catalogue will be available online a week before the sale at www.thosmawer.com For more information phone (01522) 524984.