A long forgotten statute, by sculptor Gilbert Bayes (1872-1953) will be offered for sale at The Lincoln Auction Rooms on 18 July 2018.
The statue - which came to light in a garden of weeds after being lost to the art world for 90 years - was discovered to be by the world-renowned British sculptor Gilbert Bayes, who regularly exhibited his work both here and around the world.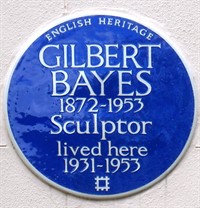 Bayes used his garden as a creative muse and experimented with Royal Doulton's polychrome stoneware – with whom he worked closely - to design an array of sculptures that were aesthetically pleasing using a wide range of colours but were also resistant to the elements.
One of those sculptures was entitled the 'Lily Maid', which he entered into the 81st annual exhibition at the Royal West of England Academy on Queens Road in Bristol. This is where it was first seen by the vendor's grandparents some time between November 1926 and February 1927.
Standing at just 20 inches (50cm) tall they later bought it direct from Bayes in 1928 for £52 and 10 shillings.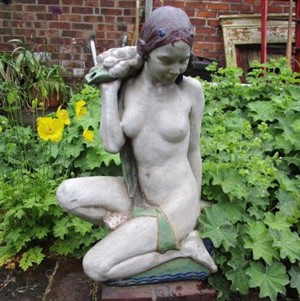 Louth office manager Alastair McPhie-Meiklejon said: "The item was taken in through our Valuation office on Mercer Row in Louth and is a fantastic example of one of the unknown gems that are hiding out there throughout the county. The amazing things that we come across, are truly one of the highlights of our job as auctioneers."
The Lily Maid will be offered for sale at The Lincoln Auction Rooms on Wednesday 18th July.