All aboard! Train spotters will be heading to the Lincoln auction rooms when a collection of local railway memorabilia goes under the hammer.
The collection, which includes platform lights and covers from the former St Marks Station in the city, is set to attract the attention of collectors when it is featured in the next sale at Thomas Mawer and Son of Portland Street on Saturday, November 7.
Auctioneer John Leatt said: "These interesting railway items have come from a local enthusiast who is refining his collection due to lack of space. We expect interest from both local and national collectors."
Among the memorabilia is a platform light and two platform light covers from the former St Marks Station in Lincoln. The station was opened by the Midland Railway in 1846 and closed in 1985 to make way for the St Marks shopping centre.
There is also a Nelson cast iron stove removed from the Sudbrooke crossing keeper's hut, a fire bucket rail from the signal box at Thorpe on the Hill and an LNER signal lamp and cast iron bracket from Pelham Yard.
A pair of LNER crossing gate lamps with original paraffin lamps and brackets are also being sold along with a British Rail enamel penalty notice sign and a painted pine bench and water can removed from the signal box at Boulton Crossing on Skellingthorpe Road.
Model train enthusiasts will be drawn to around 20 model railway lots including a Bassett Lowke of Northampton 'O' gauge model of the 'Prince of Wales' in its original box, a tender and goods wagons which are estimated to fetch between £200 and £300.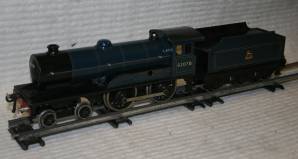 There are also 20 lots of Dinky and Meccano die-cast cars and other vehicles to include seven early Dinky racing cars estimated to fetch between £80 and £100. Nine Wilesco scale models of traction engines in their original boxes are expected to fetch between £300 and £500.
Elsewhere in the sale, there are three lots of Victorian jelly moulds and a pair of Victorian opaque glass and painted table lustres which are estimated to fetch between £300 and £500. A large Royal Crown Derby rectangular two-handled fruit bowl is expected to make £200 to £300.
In the clocks section, an early 19th century longcase clock by Chapman of Lincoln in an oak and mahogany case is estimated at between £800 and £1,200.
In the furniture section, there is a suite of dining furniture including a large three pillar mahogany dining table with two extra leaves made by Dickson of Ipswich and retailed by Harrods.
A George III mahogany chest on chest with a brushing slide is estimated at £400 to £600, two Victorian mahogany bookcases are estimated to make £600 to £800 each and a Victorian mahogany pedestal sideboard in Rococo style is estimated at between £300 and £400.
Among the paintings are a pair of Edwardian water colours by Stewart Brooke of 'Petherham, Somerset' and 'A Surrey Byway' which are estimated to fetch between £300 and £400.
A full catalogue will be available online a week before the sale. For more information log-on to www.thosmawer.com or phone (01522) 524984.