Lincolnshire Auction Apprentice Recognised for Excellence
Kirsty Young, an auction apprentice with Lincolnshire auctioneers Golding Young & Mawer has successfully passed the NAVA Technical Award in Chattels Auctioneering. This well-respected Award is not only a nationally recognised professional qualification but is also an entry requirement of the National Association of Valuers and Auctioneers (NAVA) - a leading self-regulating body solely concerned with valuers and auctioneers.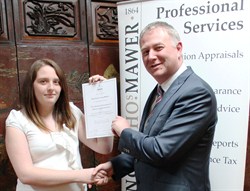 Kirsty Young, 17, who is only in her second year working part-time has become the youngest person ever to be admitted as a member of the National Association of Valuers and Auctioneers (NAVA). It has been a busy period for Kirsty who has successfully managed to combine a BTEC Business Studies course alongside part time work at the auction houses and offices of Golding Young & Mawer, whilst managing to fit in the learning program to complete the NAVA Technical Award in Chattels Auctioneering.
Kirsty said: 'I decided to start studying toward this qualification once I finished my GCSE's and decided to follow my father (Colin Young) into the business. Growing up I have been intrigued by the weird and wonderful objects he has sold and hope one day to do a similar job to Dad, but just that bit better! Being the youngest ever member of NAVA is certainly a step in that direction and I am thrilled that the hard work has paid off and I have secured the Award. For me, it is not only a personal achievement but added value for the firm'
Auctioneer, Jan Squires, who will be mentoring Kirsty post-qualification said: 'Kirsty has done extremely well in gaining her qualification at so young an age. Her ability to manage and organise studying, saleroom work, and still have a social and family life is really commendable. It's good to think the feminine touch will carry on and our client bases are already taking Kirsty to their hearts as an up and coming professional.'
Managing Director, Colin Young, said: 'Obviously I am personally so proud of Kirsty's achievements. In such a short time she has excelled in virtually everything in the firm could throw at her, from portering to pay office and website administration to auctioneering. With the Technical Award behind her she can now commence her apprenticeship as a valuer. These skills will only be developed by hands-on experience. I'd like to say she is a chip off the old block but she's far more hard working and determined than I ever was at her age.'
Golding Young & Mawer is amongst the steadily growing number of auctioneers across the UK who are committed to working with NAVA to train staff and raise standards within their field of expertise.
Guy Charrison, President of NAVA states: 'I heartily congratulate Kirsty on her achievement and I am pleased to welcome her to NAVA membership. She also recently competed and impressed in the NAVA Novice Auctioneer of the Year Competition. In an profession where standards can vary greatly between regulated and un-regulated practitioners, obtaining this Award represents not only Kirsty's dedication to developing as a valuer and auctioneer, but also her commitment to working to the high standards which NAVA seeks to promote.'
Those with any queries about NAVA Technical Awards can visit www.nava.org.uk/qualifications/ .