A lifelong collection of football memorabilia collected by Lincoln City supporter over 64 years will be auctioned on October 18, at the next Lincoln Collective Sale.
The collection of mainly Lincoln City FC programmes and other memorabilia includes one programme from every team that ever play in the Football League.
Auctioneer John Leatt said: "This is such a diverse collection of memorabilia that is sure to attract the attention of collectors. We expect it to sell for in excess of £5,000."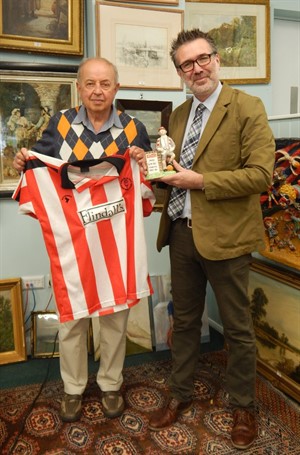 The collection was gathered by David Rollinson who now lives in Market Drayton in Shropshire with his partner Tricia, but lived near Lincoln as a child. Mr Rollinson said: "My uncle Ted was a Lincoln City season ticket holder and in March 1954 when I was nine years old, he took my brother Morris and me to see Lincoln play Luton. There were 1,124 spectators and it was a 1:1 draw. We were totally hooked. We lived at Friesthorpe and would cycle to the train station at Wickenby and get on the steam train into Lincoln. My collection started when I discovered Charles Buchan's Football Monthly, a magazine which started in 1951. You could exchange programmes with other young people. I swapped a few and since then my collection has grown to over 1,000 programmes and other memorabilia. I have seen every team play at home apart from one and I've always had a fascination with Lincoln City, even playing at Sincil Bank myself in a local cup final. They have had their ups and downs but are having a wonderful run at the moment. I've enjoyed collecting the programmes and memorabilia over 64 years but now I think it's time someone else had my collection."
Mr Rollinson wants to donate £1,000 from the sale of the memorabilia to pay for Lincoln City FC wheelchair users to attend an away fixture.
The earliest item in the collection is a Chelsea v Lincoln City programme from October 1910. The game was played on October 29th at Chelsea's grounds at a time when Lincoln had gone back into the league and Chelsea were the champions. Chelsea won the game 7-0.
There is also a programme from the first ever game Ipswich Town played in the Football League on August 27, 1938, a number of FA Cup Final programmes from the 1930s onwards and some special edition programmes.
Programmes from some teams no longer involved in the football league include Bradford Park Avenue, Glossop, New Brighton and Spalding. There is a personal autograph album of Lincoln City players from 1954 to 1959 and a football shirt worn by Grant Brown, a Lincoln City player who played in a record 491 appearances.
A one-off Staffordshire pottery figure, which was commissioned to commemorate Lincoln City's involvement in the General Motor's Vauxhall Championship in 1987-88 season, is included. It was the only figure ever made as the factory decided not to put it into mass production
One of the auction house's part-time staff members will be watching the sale closely. Mark Wallington's career included playing in goal for Lincoln City between 1988 and 1991 and as a schoolboy player for the 1968 to '69 season. Among the items in the sale is a brochure picturing him and showing that his kit was sponsored by the Golden Cross pub Junior's team.
The Lincoln Collective sale including the football memorabilia will take place on Wednesday October 18th at 10am, viewing is on Tuesday October 17th 10am – 4pm and on the morning of the sale 8.30am – 10am.