A sampler of Lincoln Cathedral will be one of the highlights of the April specialist fine art sale at the city's auction rooms.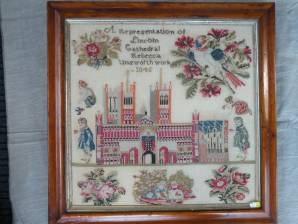 The 19th century sampler, which is one of a collection of 25 examples formed by a local lady who was a member of the Embroiderers Guild, will be featured in the sale at auctioneers Thomas Mawer and Son of Portland Street, Lincoln on Tuesday, April 27.
This sampler is the most valuable of the collection and depicts Lincoln Cathedral surrounded by bouquets of flowers, birds and figures. It reads 'A representation of Lincoln Cathedral, Rebecca Unsworth work 1845'.
Auctioneer John Leatt said: "We are delighted to be able to offer this collection of samplers in our specialist fine art sale. The owner was a keen collector and lots of local dealers would put aside their best examples for her.
"Samplers have increased in popularity in recent years with premium prices paid for those which are particularly fine, feature figures or are pre-1850s. We expect a lot of interest from Lincolnshire collectors, but they will also be of international appeal."
He added: "The Lincoln Cathedral sampler is a particularly good example of woolwork. It is still very vividly coloured for its age, stitched in wool on a linen background and framed in a contemporary 19th century maple frame. We expect it to fetch between £300 and £600."
Another rare and interesting sampler in the sale was completed by Frances Wood aged 12 on December 10, 1760. The needlework sampler features three verses and the words: 'This sampler was wrought at Mrs Salt? School in Alford the year of our Lord 1760 Lincolnshire.' It is expected to fetch between £200 and £400.
Another county sampler features numbers, letters and a poem titled 'Friendship by Ann Maddison, High Toynton (Lincolnshire) March 8th 1811'. It is expected to make between £300 and £500.
Elsewhere in the sale, the paintings and prints section contains an oil on canvas by Boston-based Polish artist Andrzej Kuhn (b. 1940) which depicts a gentleman smoking a pipe standing beside a lady with a Continental town in the background. Signed and dated 1975, the painting is expected to fetch between £500 and £800.
Another older oil on canvas by John Scott (1802-1885) depicts the ship 'The Tiviot' off Liverpool with other sailing and steam ships in the foreground. It is signed and dated 1849 and is estimated to fetch between £1,200 and £1,800.
Mr Leatt said: "This painting came from a deceased estate in Nottinghamshire and has broad appeal because it has a naivety which is quite charming."
Another painting which is expected to attract a lot of interest from collectors is a watercolour depicting a child in a blue dress with cats before a timber framed house by the artist Helen Allingham R.W.S. (1848-1926). Although it is an unusually small example, it is expected to fetch between £1,500 and £2,000.
A private collection of 26 Wedgwood models by sculptor John Skeaping will begin the sale. Skeaping
was commissioned to model a series of animal studies by managing director Frank Wedgwood in 1926, for which he was paid £100.
Of the 14 figures he designed, 10 went into production in 1927 including a tiger, buck, fallow deer, polar bear, monkey and a type of deer called a Duiker. His design for a buffalo was based on an east African buffalo calf born at London Zoo in 1927.
Mr Leatt said: "We are not aware on a national level of this many John Skeaping models coming onto the market in one sale before.
"These models were gathered together by the collector over the last 10 to 15 years. Some will fetch around £100, with the rarest examples making up to £1,000."
In the furniture section, a set of George III mahogany metamorphic library steps in the form of a Pembroke table and in the style of Robert Campbell are estimated to fetch between £800 and £1,200. These metamorphic models were often based on a 1774 patent by Campbell who designed library steps in writing, dining, card, breakfast and other tables.
There is also an early Victorian mahogany wash stand in the manner of Gillows of Lancaster which features an inventory number and the coronet of the Duke of Newcastle who owned Clumber Park. The wash stand was purchased at a country house sale in Clumber on October 13, 1937 by a member of the vendor's family along with other items. It is expected to fetch between £600 and £800.
An oak fire curb by Robert 'Mouseman' Thompson, carved typically with two mice, is estimated to fetch between £150 and £300.
One of the most gruesome items in the sale is an early 19th century surgeon's bone cutting saw with a steel blade and engraved silver plated handle, which is estimated to fetch between £200 and £300.
In the ceramics section, two Royal Worcester vases by the artist Charles Baldwin are expected to attract interest from collectors. The first is a two handled baluster shaped vase and cover, painted with four fantail doves which is expected to fetch between £1,000 and £1,500; the second is a two handled vase painted with swans and a swallow to the reverse which is anticipated to make between £2,000 and £3,000.
A full catalogue is now available online at www.thosmawer.com For more information phone (01522) 524984.