A charming letter from Queen Victoria's favourite grandson to his aunt asking her to send his love to his Grandmamma is among a series of correspondence set to go under the auctioneer's hammer in Lincoln.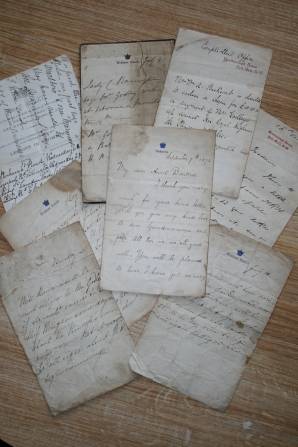 Christian Victor was just nine years old in September 1876 when he wrote the letter to his Aunt Beatrice, Queen Victoria's youngest daughter who was just 19 years old at the time.
In the letter he spoke of his swimming lesson with Mrs Godley, a teacher of swimming to the Royal family. At some point, the letter was passed on to Mrs Godley herself and now it, and several other correspondence from the Royal household relating to her swimming lessons, are being sold by her distant relatives, who now live in the Lincoln area, at the next sale at auctioneers Thomas Mawer and Son of Portland Street on Saturday, July 3.
Auctioneer John Leatt said: "These wonderful handwritten letters mostly relate to the work of Mrs Godley, asking her to attend the Royal houses at particular times to give swimming lessons to the children of the Royal family.
"But the most charming letter was written by Queen Victoria's favourite grandson who spoke of his achievements during his swimming lesson. We can presume this letter was passed to Mrs Godley at some point as a token of the family's appreciation for her work.
"The letters remained in her family for more than 100 years and now her distant relatives have decided to sell them. It is very usual for personal letters such as these to come onto the market and we expect them to fetch between £200 and £300."
His Highness Prince Christian Victor of Schleswig-Holstein was the eldest son of Queen Victoria's third daughter Princess Helena and Prince Christian of Schleswig-Holstein.
He was born at Windsor Castle on April 14, 1867, and became an officer in the British Army's 60th King's Royal Rifles in 1888, fighting under Lord Kitchener in 1898. In 1900, he served in the Boer War under Lord Roberts and in October the same year, he came down with malaria whilst in Pretoria. He died of enteric fever on October 29 aged 33 and is interred in the cemetery at Pretoria.
The letter he wrote as a nine-year-old child reads: 'My dear Aunt Beatrice, I thankyou very much for your kind letter. Will you give my kind love to dear Grandmamma and please tell her we are all quite well. You will be pleased to hear, I have got on very well with my swimming. I swam from the pier where the bathing machine is to the bottom of the valley path a distance of a 102 yards. Mrs Godley had it measured, she walked by my side. Christian Victor.'
It was written on Osborne letter headed paper - Osborne House was Queen Victoria and Prince Albert's summer retreat at East Cowes on the Isle of Wight. Queen Victoria passed away at Osborne in January 1901, a year after Christian Victor died.
Mrs F. Godley's advertising material describes her as 'Teacher of Swimming to HRH the Princess of Wales and family, HRH Princess Beatrice, HRH the Crown Princess of Germany, etc, etc', and also states: 'Swimming caps and costumes made to order'. It gives her address as No 68 Marmont Road, Peckham, S.E.
Several letters in the collection give instructions to Mrs Godley regarding her swimming lessons.
Some of the letters relate to her teaching Princess Beatrice. In one letter dated May and written on Windsor Castle letter headed paper, it reads: 'Miss xxxx regrets the delay of her report to Mrs Johnson's letter but is pleased to tell her that H.M. The Queen would wish her to attend H.R.H. Princess Beatrice's swimming as before. Her services will be required after the beginning of July about the middle of the month most likely and as Mrs xxxx will be absent from England at that time, the necessary arrangements will be made by Lady C. Barrington."
Subsequently another letter from Windsor Castle is dated July 4 from Lady Barrington to request Mrs Godley's presence. It reads: 'Lady C. Barrington begs Mrs Godley will be at Osborne on Monday, the 14th. Mrs Godley will bring a bathing suit for HRH Princess Beatrice.'
Another dated September 22nd, 1877, from Malborough House, Pall Mall, reads: 'Mrs A Baskcomb is directed to enclose a cheque for £18.18.0 in payment of Mrs Godley's account against Her Royal Highness the Princess of Wales. Mrs Godley is requested to send a receipt.'
A full catalogue will be available on-line a week before the sale. For more information phone Thomas Mawer and Son on (01522) 524984 or visit www.thosmawer.com.