Glass manufacturing in the 18th Century was at its peak in England. Always diverse, handmade and although sometimes made using crude implements some of the most intricate and sophisticated pieces were produced. Throughout the century glass was exported throughout the world due to a high demand. Golding Young & Mawer have a collection of mainly 18th Century glass in their next Collective Sale on Wednesday 17th of May that shows all the attributes as to why this country was the leading light in glass manufacturing.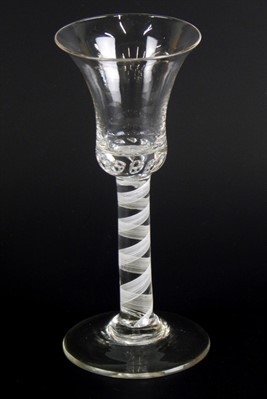 Collected by a couple from the Home Counties with Lincolnshire connections over a period of nearly 40 years and bought from some of the leading specialists throughout the country, there are over 50 pieces up for auction. With prices ranging from under £50 to in excess of £500 there is something for most collectors.
Also included in the Collective Sale is a fascinating group of kitchenalia from the collection of Barry and Hillary Harris. Mr Harris is world renowned for making miniature 1/12th scale models of kitchen items. The pieces up for auction were his inspiration and formed part of his study collection on which he based a number of his models from the late 1990s to the early 2000s. With some pieces estimated to make upwards from £200 there will no doubt be considerable interest from kitchenalia collectors, be it in its full size or miniature.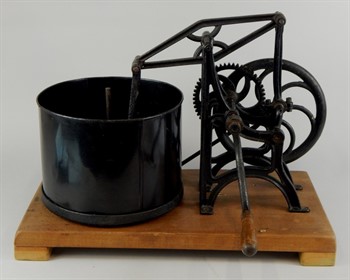 The rest of the sale of nearly 1500 lots will be split over two days. The first day is to include a number of good early 20thC postcard albums and other ephemera, hunting clothing and memorabilia, musical boxes and china, to include Royal Crown Derby, Beswick, Royal Doulton and Moorcroft.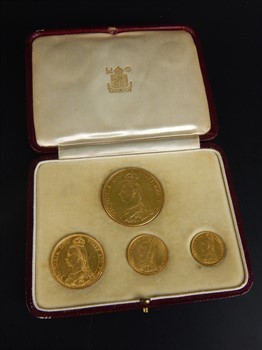 Perhaps the highlight of over 20 lots of coins is a Queen Victoria 1887 gold specimen set containing a £5 coin, a £2 coin, a sovereign and a half sovereign (£2000-3000). The second day sale starts with a fascinating sale of fire engines, related equipment and memorabilia (viewed on site, see website for details) and ends with antique and later furniture which includes a range of items from a 17th Century oak court cupboard to pieces by Ercol, G-Plan and Bevan and Funnell from the end of the 20th Century.