Lot 1, is a beautiful example of a late Victorian Silver Tea Service. Featuring a teapot, hot water jug, creamer and sugar bowl, all in a rectangular form and engraved in an aesthetic manner.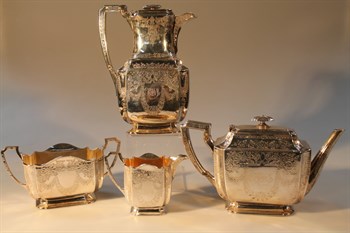 The set was produced by silversmiths, Atkin Brothers who were based in Sheffield and is dated 1894.
The Atkin Brothers who made silver dishes, platters and cutlery, were well known for making items of exceptional quality.
Antique silver sets are still valuable and highly sought after. Whether you choose to use it for special occasions or for everyday use, silver tea sets can add elegance to any period property, and create a talking point for any occasion.
The silver tea service, which weighs 61 oz all in, will be offered for sale at the Grantham Auction Rooms on 9th October 2013. Viewing is open on the 8th October and on the morning of the sale.