The 1950s Phoenix bicycle was the first to be used by the character Marina, played by actress Jean Fergusson from 1984 to the mid-1990s. Now Jean has decided to sell the bicycle and it will be featured in the 150th Anniversary Auction at the Lincoln auction rooms of Golding Young & Mawer on Thursday, September 4th at 10am.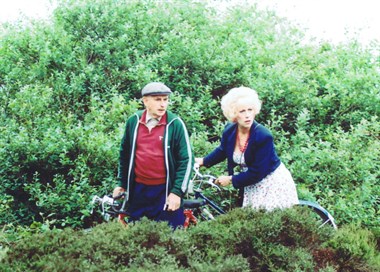 Auctioneer John Leatt said: "Marina's bicycle is an iconic piece of TV history and we are delighted to be featuring it in our 150
th
Anniversary Auction.
The show was, and still is, hugely popular and we know there will be a great deal of interest in this lot from fans and collectors worldwide."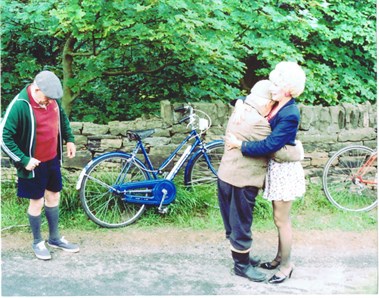 The bicycle which will be featured in the sale is signed by cast members Peter Sallis who played Norman 'Cleggy' Clegg, Brian Wilde who played Foggy Dewhirst, Bill Owen - Compo Simonite, Marina - Jean Fergusson, Gordon Wharmby - Welsey Pegden, Robert Fyfe - Howard, Mike Grady - Barry, Ron Moody who played Captain Clutterbug or Willoughby in a special episode of the show (he is well-known for playing the character Fagan in the film Oliver), and Alan J.W. Bell who produced and directed the show for 30 years.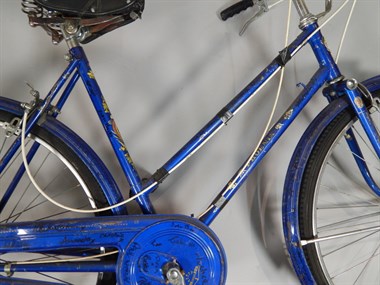 A series of signed labels from Dame Thora Hird who played Edie Pegden, Kathy Staff who was Nora Batty, Jane Freeman - Ivy and Juliette Kaplan - Pearl will be tied to the handle bars of the bicycle and also featured in the sale.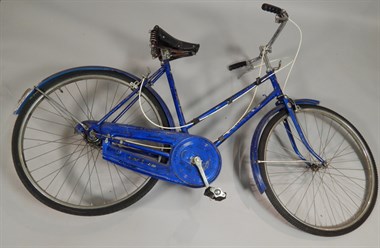 The lot comes with full written provenance from Miss Fergusson and with some photographs taken during filming showing her with the bicycle.
Miss Fergusson said: "This was my very first bike and has been in many episodes of the show and obviously it's got quite a lot of sentimental attachment for me.
"It was by pure chance they gave it to me when they got a new bike for the show in the mid-1990s. I put it in my hatchback and everyone came over to sign it like Bill Owen and Brian Wilde who are now dead and Ron Moody who was in an episode of the show at the time. It set off a chain reaction!
I was going to make a feature of it in my hallway or living room but it's a bit big, so it's been hanging on a couple of hooks in the garage all that time. When I moved from Yorkshire in March, I had to do something about it because I couldn't fit it into my new property in London.
I feel sad to see it go as it's been part of my life really. If I could have kept it, I would have done but I'll let some wonderful fan have the pleasure of it. It still works but as a collectors' item, it's probably better for someone to keep it nice and shiny and hang it on their wall!"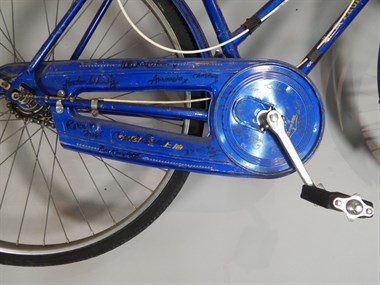 An affectionate comedy about people in their autumn years, the BBC TV comedy 'Last of the Summer Wine' is the world's longest running sitcom with over 30 series, several Christmas specials and a 1988 prequel 'First of the Summer Wine'. Every episode was written by Roy Clarke.
Originally created as a submission for the BBC's Comedy Playhouse in 1973, within the year, a full series had appeared on our TV screens. The show follows the misadventures of three elderly friends tramping around the town of Holmfirth, West Yorkshire, and its surroundings.
The original trio were Bill Owen as Compo, Peter Sallis as Clegg and Michael Bates as Cyril Blamire. When Bates dropped out due to ill health in 1976, his part in the trio was replaced by Brian Wilde who played war hero Walter 'Foggy' Dewhurst.
Most of the episodes featured the comedy duo Howard and Marina. In the series, hen pecked husband Howard, who is married to Pearl, is having a secret romance with the peroxide blonde Marina behind his wife's back.
Marina is seen as a 'tart' by the other women in the village and works in the local supermarket. Howard often sneeks off to the supermarket to pass or receive notes from Marina or pesters his neighbour Clegg to help him escape Pearl and be with Marina.
Often the couple would ride off into the countryside on their bikes to be together, but their plans were usually foiled. In most episodes Marina would simper 'Oh Howard', followed by Howard's 'Oh Marina'.
Over the years Howard came up with many disguises, cover stories and hideaways to allow him to see Marina, all of which were exposed by Pearl. In their earlier appearances, they were sometimes in disguise with Howard saying, "I think we've really cracked it this time". Their relationship did not go beyond hand-holding and gazing into each other's eyes (much to Marina's annoyance), and the occasional kiss in a field or haystack.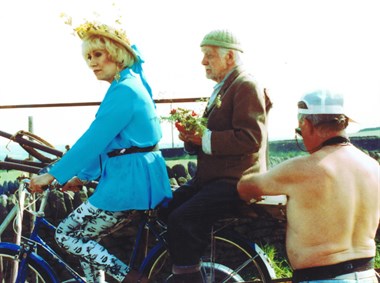 For more information about sales at Golding Young & Mawer log-on to
www.goldingyoung.com
or phone the Bourne saleroom on (01778) 422686, the Grantham saleroom on (01476) 565118 or the Lincoln saleroom on (01522) 524984.