Seven paintings by notorious East End gangsters the Krays sold for over £3,000 when they went under the hammer in Lincoln.
The paintings - four by Reggie and three by Ronnie Kray - were the highlight of the sale at auctioneers Thomas Mawer on Friday and Saturday, November 5 and 6.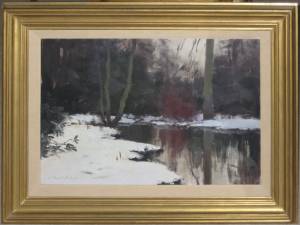 The sale was part of a massive four-day antique auction to celebrate the merger of Golding Young of Grantham and Thomas Mawer, with the first two days (November 3 and 4) being held at the Grantham sale rooms. Over the four days, over half-a-million pounds of antiques and collectables went under the hammer.
A painting by Reggie Kray depicting the brothers escaping from an island prison on a boat made the highest price of £675, whilst two other paintings by Reggie - one depicting a night scene and the other showing a river landscape with the twins wearing top hats and riding white stallions - fetched £500 each.
A garden scene by Ronnie Kray fetched £460, whilst a farm landscape by Reggie made £420 and a painting of a farm with the twins standing in front of the gates made £400. All of the paintings were dated and featured the HM Prison Parkhurst stamp to the back.
Auctioneer John Leatt said: "Whilst not of great artistic merit, these paintings are popular with collectors of Kray and gangster memorabilia."
"There was a lot of interest on saleday with a number of bidders competing in the room, on the telephones and over the Internet. Each painting made a hammer price well in excess of its £200 to £300 estimate."
A portrait of the twins by serial poisoner Graham Young, created by Young when all three criminals attended art classes at Parkhurst Prison on the Isle of Wight in the 1970s, failed to sell. It was originally traded for tobacco by another prisoner and later given to the current owner. Another Picasso-style self-portrait of Young sold for £200.
Serial killer Graham Frederick Young, known as the 'Teacup Poisoner', was fascinated by poisons from a young age. At just 14 in 1962, he laced his step-mother Mollie's food with two poisons - antimony and digitalis - causing her death.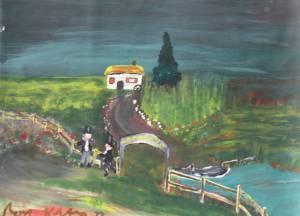 After spending nine years in Broadmoor, he was released and went to work in a photographic studio where he had access to dangerous chemicals. Soon after, two colleagues fell ill and died after he spiked their tea with poison. He went on to make 70 others ill before he was caught and sentenced to life imprisonment in 1972 at St Albans Crown Court. He served his time at Parkhurst Prison where he attended art classes with the Krays.
Young completed a series of 15 paintings in the style of Picasso which he traded with other inmates.
In a letter, the original owner of all the paintings writes: 'I was in Parkhurst Prison and in E-wing (hospital) where Ron Kray and Graham Young was, and Reg was in the segregation unit in the early '70s. I served 22 years and was E-wing cleaner. I was on art class and the 'Red Band' (trustee) for tutor organiser.
"Painting was my main interest. I acquired over 40 paintings from prisoners, including Ron and Reg Kray, Graham Young and others."
In August 2006, over £9,000 was paid for just 12 lots of Kray memorabilia at Thomas Mawer and Son. The highest price was £2,200 for a painting created for Marc Bolan of T-Rex while the Krays were in Parkhurst. The painting of a house on a hill and a tree was sold with a letter from Ronnie to Laurie O'Leary in which he said 'tell Marc I will do him a painting'.
The sale followed a previous auction of Kray paintings held in October 2005 at Thomas Mawer which also raised £9,000.
Twins Ronnie and Reggie Kray ran a notorious gang in London's East End known as 'The Firm' during the 1950s and '60s. The brothers were jailed in 1969 for a recommended 30 years after Ronnie shot George
Cornell in the Blind Beggar pub in Whitechapel and a year later, Reggie stabbed Jack 'The Hat' McVitie in a North London flat. Ronnie and Reggie died in 1995 and 2000 respectively.
In total, over 3,500 lots were sold during the four day event to celebrate the merger of two of Lincolnshire's oldest established salerooms.
The highlight of the Grantham sale was a collection of four paintings by the artist Edward Brian Seago (1910-1974) which were being sold by the family of Sir Guy and Lady Lawrence. Sir Guy Lawrence was the deputy chairman of J. Lyons and Co who made several well-known brand acquisitions for the company, including Tetley Tea and Findus. The pictures sold for £76,000.
Among the paintings by Seago, an oil on board, titled 'A Suffolk Farm' fetched £29,000, well above its £15,000 to £25,000 estimate, whilst 'Red dogwood in the snow' sold for £20,000. 'The Pink House, Venic', a watercolour which was purchased from Marlborough Fine Art in December 1970, fetched £9,000, over its £5,000 and £8,000 estimate.
Another watercolour titled 'Street Stalls, Wanchai' created the highest price for a watercolour by the artist at £18,000 since the height of the market in the early '90s.
A painting by the artist John Piper (1903-1992) titled 'Elizabethan Dance' also outstripped its estimate of £5,000 to £7,000 to fetch £10,000, selling to a local private collector. The signed and framed gouache and watercolour was the original artwork for one of a series of Lyons Restaurants lithographs. The painting was lot number 17 in a catalogue of original works produced by J. Lyons Ltd, Cadby Hall, London, in December 1974. Priced at £510, it was purchased by the current vendor's family for £550.80 and was sold with the original sales invoice.
A painter of architecture, landscape and abstract compositions, Piper exhibited 52 works at Lincoln Cathedral and designed a tapestry at Long Sutton. Several of his works are held in the Tate Collection.
One of the highlights at the Lincoln sale rooms was a Wedgwood Fairyland lustre vase with a Candlemass pattern which fetched £2,800. The vase had been brought into the free Friday valuation clinic by its owner who had no idea of its value.
A similar Fairyland lustre 'Moorish' octagonal bowl designed by Daisy Makeig-Jones with the interior decorated with a 'Smoke Ribbons' pattern fetched £2,600.
The clocks section included over 30 timepieces including a George III eight-day longcase clock by G. Jackson of Gainsborough circa 1780 which was consigned by a Lincoln-area family and fetched £1,400.
According to a local clock expert, its maker George Jackson was said to be a 'very eccentric character' who attended Blyton feast every year for 60 years, always sat in the same seat and ordered roast rabbit. He added: 'He never drank tea, substituting only English wild plants principally Egremont, and in seeking this near Risby, he died overcome with heat aged 83 in 1831.'
Among the pottery, a pair of 19th century green and white overlay table lustres fetched £700 and two vases, one pink with hand painted flowers and the other decorated with gold overlay, fetched £320 and £300 respectively.
Meanwhile, a Moorcroft vase, estimated to fetch between £250 and £350, fetched £1,600 due to its unusual pattern, believed to be a version of 'Anemone', which had never been seen before even by a specialist dealer.
The auctioneers continue to achieve very strong prices for gold and silver with 43 gold medallions, each struck with a monarch of Britain, fetching £2,700.
Among the paintings and prints, an oil on board of Whitby Harbour by the artist Walter Linsley Meegan (1859-1944) fetched £1,700, well above its £400 to £600 estimate. The painting was brought into the auction room during a free Friday valuation clinic and was bought by a collector from the Whitby area.
In the furniture sections, quality again proved the most important factor with a William and Mary walnut bureau selling for £4,200 at Grantham.