Brexit from Europe. A slow down in the world economy. The next American President. In uncertain times stock markets take a tumble and investors look for more certain markets like gold and silver. Reflecting this Golding Young's Bourne Collective Sale, to be held on March 9th, shows a particularly strong offering of gold and gem set jewellery.
Leading the sale Lot 1 is a 9ct gold curb link charm bracelet with twenty five charms. Popular at the best of times, the bracelet has the added benefit of nine of the charms being mounts gold sovereigns, with two further being half sovereigns. Not only attractive to look at but a strong investment, it is expected to realize in the region of £2200-2500.
Other lots with a gold bias include several coin set pieces. There are rings and pendants containing further sovereigns and half sovereigns, a rare George III gold Guinea dated to 1785, and unmounted coins including a United States Indian head 2.5 dollar.
Amongst the gem set jewellery there are a number of attractive pieces from a single estate discovered amongst much costume jewellery. Foremost is a diamond and gem set brooch, Lot 241, formed as a butterfly. Always popular, this brooch is quite large and is set with diamonds, pearls and the full panoply of precious stones. In a similar vein are two further brooches, one formed as a fly with a spider suspension, the other as a parakeet perched in a hoop.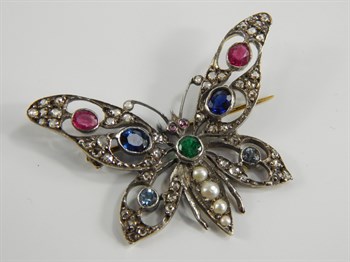 In addition to gem set jewellery there are some attractive examples of antique and collectable jewellery. Lot 189, two Victorian jet bracelets of the Whitby variety rather than the simulated French glass type, are offered with an estimate of £60-90; one carved with a cameo portrait of a lady, the other by contrast decorated in pietra dura with flowers.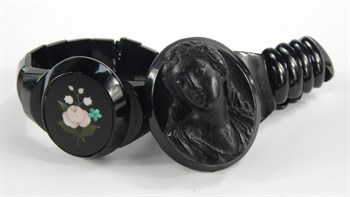 Two strings of beads are offered with an appeal to the specialist overseas markets; one of amber including the desirable butterscotch amber examples, the other of spinach jade which holds appeal to Chinese buyers.
Another strong area of interest in the current jewellery market is for bold costume and silver jewellery and a number of lots are offered which meet this criteria.
Finally, with an appeal as much to gentlemen as to ladies, there is a good and diverse array of watches on offer. Highlights include a Movado silver cased pocket watch estimated at £60-90, a 9ct gold Cyma gentleman's wristwatch dating to the 1930's (lot 253) and sundry gold plated and silver cased pocket watches.
As well as jewellery there is much, much more at the Bourne Collective sale on the 9th March including ceramics, silver, antique and contemporary furniture, pictures and collectables. With lots to suit every pocket the Bourne saleroom is well worth a visit.
The sale is at The Bourne Auction Rooms on Wednesday 9th March at 10am. Viewing is on Tuesday 8th March from 10am to 4pm and on saleday from 8.30am.