The Asian Art sale at The Grantham Auction Rooms on the evening of Wednesday 7th June once again proved the buoyancy of the market as a variety of objects found new homes across the world, achieving a staggering range of prices.
Lot 3236 produced the highest bid of the evening; £2,600 for a bronze incense burner, whose quality was undeniable and - although set with Xuande marks it was much later, probably late Qing period - it still achieved a hefty price. Interest came in swathes from across the globe, proving once again the Grantham Auction Rooms are where to bring any item of Asian art.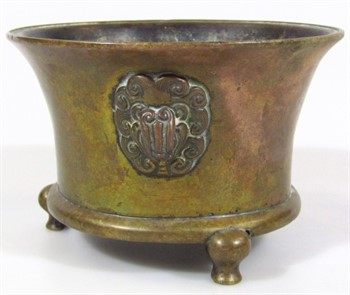 It was again scholarly pieces which made high brow prices with ivory, bronze, white metal and furniture leading the way.
Early on a highly delicate and exceptionally well carved ivory figure doubled estimates and made £1,000, hotly followed by a selection of saleroom catalogues of good repute with many of the who's who of sales appearing – prices for several lots averaged around £300.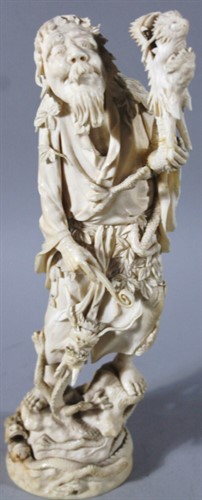 Two pieces of furniture; a cabinet and even more successfully a plant stand again show this area of the market is thriving. The latter object, dating from the 19th Century with a liver section of marble inset to the top, on a heavily carved and intricate base in zitan wood proved highly appealing. The beauty with this type of furniture is the collector and interior decorator can be just as attracted to it; it smacks of quality, is useful, takes up little room, is of age, a good investment, juxtaposes with newer Western furniture, and is quite simply a gem of an item.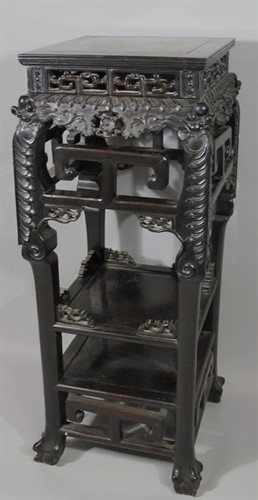 There were success stories throughout; the pictures gave up £1,000 for an oil of fishes, the porcelain included good results for export pieces as £600 change hands for a Transitional period vase. More unusual objects such as a Japanese samurai helmet made £800, two samurai swords approached £300 each and the thick end of £200 was spent on a white metal bowl.

Again it is the quirky, unusual pieces which are selling, but anything with a good name attached and of quality in this genre quite simply soars away.
We are constantly looking for Asian Art for future sales, please contact the Grantham office for further details on (01476) 565118.