Mention the word 'Hornby' to a train enthusiast and you'll conjure up images of locomotives pulling rolling stock and carriages, whizzing past signals, trees, animals and replicas of popular train stations on elaborately set-out tracks with a familiar chug-chug-chug.
Collectors and dealers of train collectibles are always on the lookout for good quality items, preferably boxed. We're fortunate to have such a collection in the Grantham saleroom, later this week, when we feature a private train collection of over 200 items from a local vendor.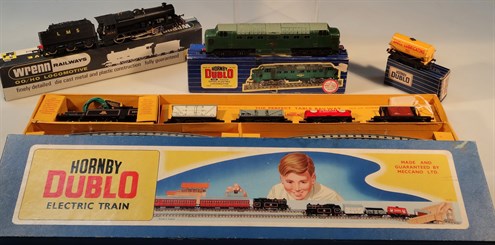 The collection includes mainly 00 gauge trains - most are boxed - by Hornby, Wrenn, Tri-ang as well as a wide variety of accessories including full models of Kings Cross and Penrith stations.
The first lot in the sale from this collection is Lot 7, a Hornby Dublo boxed Tank Goods train. The majority of the collection is lotted as 301-343.
"Many items are in first class condition and it's becoming rare to find pieces in such good order - some of which have never been removed from their boxes!" Grantham Auctioneer & Valuer, Craig Bewick said.
"The collection is in showroom quality and some items are in remarkable condition. The collection will appeal to national and international collectors and dealers."
The live auction will take place at The Grantham Auction Rooms on April 9, from 10am. The full sale catalogue can be viewed online at www.goldingyoung.com. Viewing will be open between 10-4pm on April 8, and 8.30-10.00am on the morning of the sale.