A group of medals, memoirs and associated photographs that once belonged to a highly decorated Royal Navy officer are set to go on under the hammer at the Grantham Auction Rooms on April 9 with Messrs Golding Young & Mawer.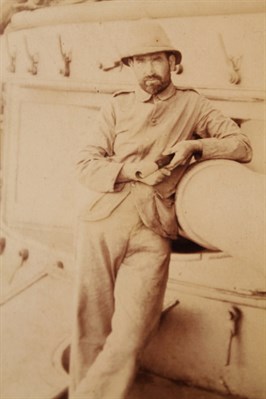 The memoirs are handwritten narratives of Petty Officer Arthur Henry Craven's service in the ill-fated Gallipoli campaign of the First World War and relate to The Dardanelles Operation in May 1915.
Petty Officer Craven was awarded the Distinguished Service Medal for helping to land Australian troops at Gabe Tepe whilst under heavy machine gun and sniper fire.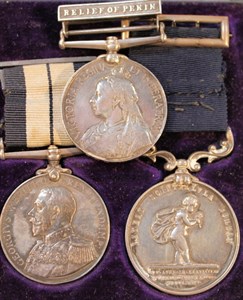 He also received the Royal Humane Society Silver Medal for lifesaving - which was awarded for the heroism he displayed in jumping overboard to save stricken sailors when the battleship HMS Triumph was torpedoed by a German submarine. Petty Officer Craven spent half an hour in the water rescuing about twenty men under enemy bombardment. Both medals were presented by Queen Mary.
"This will make an excellent investment for Militaria collectors," says Andrew Doubleday, Grantham Saleroom Manager. "Not only are Naval Distinguished Service Medals rare, but pretty soon complete collections like this one - that have been handed down through the generations - will be unheard of, so this is an incredible opportunity to acquire a unique piece of naval history."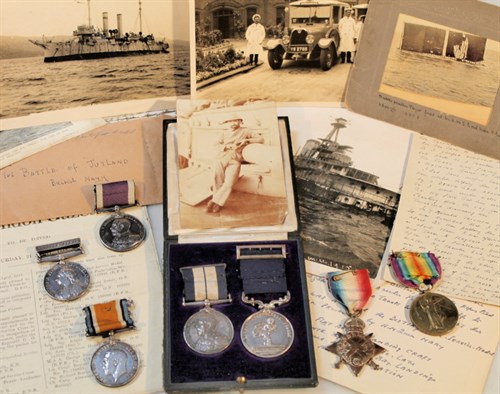 Also in the collection are Arthur's Victoria China War Medal 1900 with Pekin clasp, 1914-1915 Star, 1914-1918 War Medal, 1914-1918 Victory Medal and George V Royal Naval Long Service and Good Conduct Medal, as well as assorted photographs from his naval service and later career as a founding member of the London Ambulance Service.
The collection was brought into Grantham Auction Rooms by Arthur's nephew, who lives in Grantham. He inherited the collection when Arthur passed away. The collection is Lot 11 in the sale and has been estimated at £2,500-£3,500.
The live auction will take place at The Grantham Auction Rooms on April 9, from 10am. The full sale catalogue can be viewed online at www.goldingyoung.com. Viewing will be open between 10-4pm on April 8, and 8.30-10.00am on the morning of the sale.