The collection, which includes examples by Lincolnshire watch makers such as Kelly of Louth, George Barnes of Gainsborough and Jackson of Spilsby and other makers including John Erade of London, is being sold in approximately 50 lots which are expected to make between £50 and £200 at the sale at auctioneers Golding Young & Mawer on Wednesday, May 15.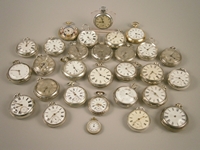 Auctioneer John Leatt said: "This is a well selected collection of pocket watches which will appeal not only to collectors from Lincoln and Lincolnshire but to those from a wider area."
Elsewhere in the sale, a small collection of hunting memorabilia, including spurs, riding boots and riding crops, which previously belonged to the famous race horse trainer, jockey and hunter Jock Day is also being featured. Mr Day died whilst hunting with the Cottesmore Hunt in 1963. The items are expected to make between £50 and £100.
A collection of over 30 lots of tribal art from two private collectors includes two Ere Ibeji twin figures from Nigeria and a Mambila Cameleon mask. Items from the collection are expected to sell for between £50 and £800.
Meanwhile, a female Blackamoore figure is estimated to sell for between £1,000 and £1,800.
Within a section of over 40 lots of books, there is a copy of 'Horae Hebraicai' which was formerly the property of Charles Goddard, the Archdeacon of Lincoln in the 19 th century. It is estimated to sell for between £100 and £200.
There are also in excess of 50 lots of stamps, including 40 from a local deceased estate, which are expected to make over £3,000.
A large section of furniture includes a George III secretaire bookcase estimated at between £1,000 and £2,000, a large Victorian rosewood and gilt metal display cabinet with an estimate of between £1,000 and £2,000 and various Georgian chests of drawers including a Chippendale period chest of drawers with an estimate of between £800 and £1,000. There are also various display cabinets and sets of dining tables and chairs.
The sale, which features nearly 1,500 lots in total, also includes militaria, ceramics including Beswick, Royal Crown Derby, Staffordshire and Crested China including a Lincoln Tank from the First World War. There is also a good selection of glass including paperweights and art glass, pictures and prints, toys including die cast vehicles, model railway and chess sets, and silver and jewellery.