Vintage enamel signs have for a long time been collected by enthusiasts throughout the world. The fashion for 'vintage' items has meant prices are now sky high for original pieces with interesting visual graphics.
Golding Young & Mawer's next Collective Sale at The Lincoln Auction Rooms on Wednesday 19th October has a piece that is not only visually striking, but also historically interesting and above all in perfect condition. The Spratts cat food sign was consigned by a local collector, who had the piece on his kitchen wall for decades.
Spratts dog biscuits were first made around 1860 when American entrepreneur James Spratt established the company. Over the next century or so they were synonymous with dog and cat food, until being sold to Spillers in the 1960's. Eventually the whole company was bought by Nestle in 1988 and over a period of another 20 years the name of Spratts was finally phased out. Bearing the slogan 'puts pussy into fine form' the sign dates from the 1930's and is likely to attract a plethora of potential buyers for a number of reasons. The pre-auction estimate is £400-600.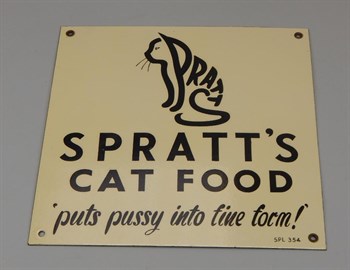 Also included in one of the most eclectic sales of the year so far is an early 20th Century Continental enamel card case. Decorated to the hinged cover with a subtly posed nude bather, the piece in its day would have caused great amusement. Such pieces again have become very collectable the world over, with this example expected to make in excess of £300 in auction.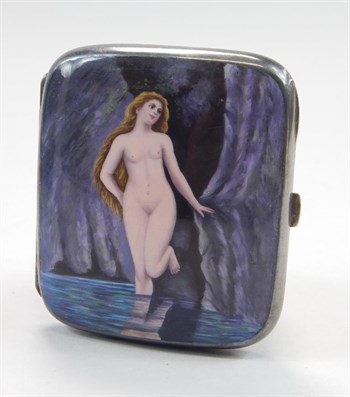 The sale will also include taxidermy, bronzes, Admiral Lord Nelson memorabilia, Wedgwood to include two versions of the famous Portland vase, and a number of collections of tools.
Unusually, included in the auction is a number of sections of timber and other materials from the workshop of the innovative violin and bow maker Lawrence Cocker of Derby. He was the first person to make and sell violin bows made out of split cane.
All of this is, of course on top of the usual sections of silver, jewellery, ceramics, glass, pictures, books and furniture.
The sale will be held at The Lincoln Auction Rooms at Thos Mawer House on Wednesday 19th October from 10am. Viewing is on Tuesday 18th October from 10am until 4pm and from 8.30am on saleday.