A farm and bygones sale will take place at Hall Farm, Londonthorpe, near Grantham, on Saturday, September 21, at 10am.
Saturday's auction will see the sale of a variety of vintage agricultural machinery, horse carts and bygones, from the estate of Susan Goffin, the widow of well-known Lincolnshire farmer Robert Goffin.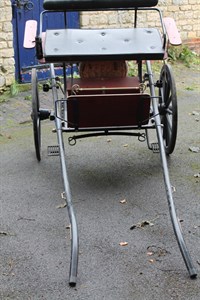 Other lots include a Ferguson vintage tractor (151), estimate £2,000 to £2,500, a vintage 1925 Austin H12/4 Windsor saloon, estimate £6,000 to £8,000, locally made Bennington Carriages horse traps, lot 53, 54 and 55, estimates from £600 to £800 as well as other typical farming bygones, such as potato scales (lot 64), a rotavator, (lot 115), an early petrol mower (lot 62) and a stone trough (lot 87).
Luke Handley, resident valuer and auctioneer at Golding Young & Mawer's Grantham Saleroom, said: "We have had a lot of interest in the sale, and we look forward to seeing clients old and new wishing to own a piece of Lincolnshire agricultural history."
Viewings will take place at Hall Farm on Friday, September 20, from 10am to 4pm, and on sale day, from 8.30am to 10am.
For more information contact Golding Young & Mawer on 01476 565118, or visit www.goldingyoung.com.