Enthusiasts will be able to purchase some of Grantham's history at the next collective sale at the Grantham Auction Rooms on 6th November 2013.
Among 150 lots of whisky and other spirits, are two stoneware whisky bottles (Lot 401 and 401a) by Johnson Basker and Fletcher who were wine merchants in Grantham during the Victorian era. Lot 401a is a 2 gallon stoneware bottle sold by T.H. Wakefield of the Red Lion Pub in Grantham. The pub no longer exists, but we believe it was at 23 High Street.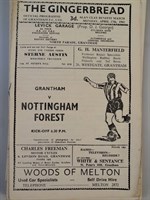 Continuing the Grantham theme, contained within 31 lots of football programmes are some early 1960s Grantham Town programmes. The programmes cover when Grantham Town played Boston United and Peterborough United and became league champions. Other teams include Manchester United, Arsenal, Tottenham, Leeds, West Ham, Nottingham Forest and Leicester.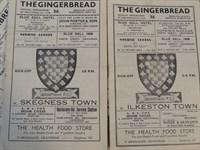 Resident Valuer and Auctioneer, Luke Handley said: "Local enthusiasts will be drawn to these two areas of interest, reflecting Grantham's history of drinking and football, but not at the same time!"
The full sale catalogue is available online. Viewing is open from 10am-4pm on Tuesday 5th November and from 8.30am on the day of the sale.