Our seventh sale of the month, following sale number six, was the Grantham Asian Art Sale on Wednessday 24th January.
Age defied value and traditional markets were somewhat distorted by sense or reason. That is the great unpredictability that comes with these sales.
The sale started with a mixture of subject matter for all pockets, with good decorative trinket items being acquired lot after lot. Lot 1853 was the first item of higher quality; a Japanese shodhana cabinet with profusely carved frame with dragons and flowerheads dating from circa 1900 escalated the bidding to a heady £2,200.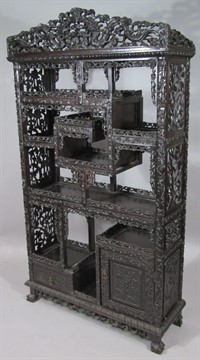 Other furnishings were equally hard fought including Lot 1893 a Chinese Qing period hardwood folding chair with a red lacquer finish realising £500, and Lot 1916 the Indian five piece silver tea service followed the excellent results of the morning's silver commanding £1,300.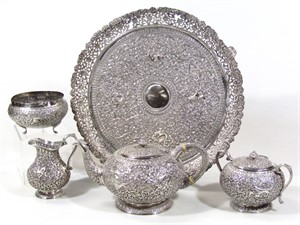 A Kangxi style shouldered vase (Lot 1923) realised £1,000. Age isn't everything and Lot 1943 was a 20th century example of the finest Chinese porcelain and with a pink neck and decoration in yellow and turquoise around a body of figures and landscape, at 32cm high, saw bidding in the room and on the telephone take it to £2,200.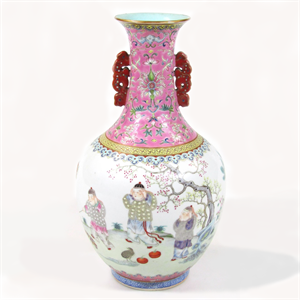 Various Japanese Samurai swords were offered with Lot 1951 taking the highest price at £440. One of the finest lots in the sale was a Japanese Meiji period Komai bronze powder box (Lot 1957), measuring just 7cm wide but having wonderful lacquer and gilt applied decoration. This was sold for £700. Japanese wares also continued in strength with Lot 1970, a pair of silver wire cloisonné baluster vases in the manner of Namikawa Sosuke. Just 31cm high, they realised £500 to a bidder on the telephone.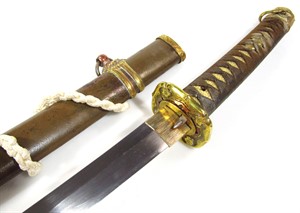 18th century export wares from a selection of plates would always be topped by Lot 1986, which depicted ho-ho birds amongst tobacco plantation leaves and at 23cm diameter commanded £400 under the hammer. Other export wares continued thereafter, making many hundreds of pounds and the final result of the evening was the £550 that acquired the Meiji period Japanese carved hardwood netsuke in the form of a seated skeletal figure banging a drum (Lot 1999)