Our sixth sale of the month was the January Antiques, Fine Art, Silver & Jewellery Catalogue Sale at Grantham on Wednesday 24th January.
"If art is all about the artist, silver is all about the silversmith'" said Principal Auctioneer Colin Young reflecting upon the fact all the key makers of note were featured within the sale.
This long awaited extravaganza of fine silver, jewellery and bijouterie principally from the collections of three local families and a number of long established clients that had been holding on to treasured items for some time. The room was full of collectors and dealers, for many of whom it was many years since they had been to The Grantham Auction Rooms.
The invigorated room had telephone bids ringing out and an online screen flashing with every beat of a bid. There was an element of the old fashioned saleroom humour, mischief and gamesmanship that is often lacking these days.
Of the lots to create excitement included Lot 1010 a set of Victorian silver candlesticks by Martin Hall & Co., selling for £1,000, Lot 1012 four George III silver condiment bowls, selling for £950 and a pretty George IV silver desk stand dish by Joseph Angell I (Lot 1014) realising £500. This was followed by Lot 1021 a harlequin George II double lipped sauceboat by George Wicks and John Swift, realising £2,700.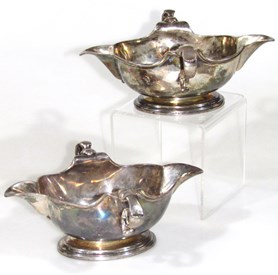 Paul Storr is of course a name everyone wants in their collection and Lot 1026 included a silver salt of shell form of his with two matched examples by the Barnards, attaining a price of £1,900.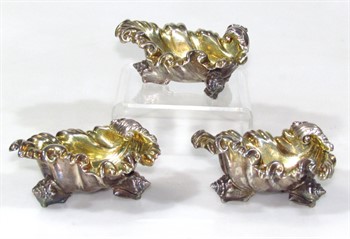 Lot 1050 was one of the most substantial George II silver salvers you will come across, having bold acanthus scroll feet and a fine border worked by Benjamin Godfrey and dated London 1739 and realised £3,800.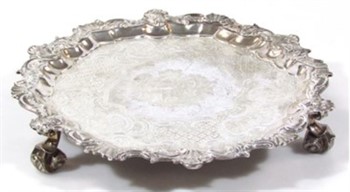 Many other surprises within this section were produced, including a notably high demand for cutlery and flatware and ultimately small pretty items such as a Nathaniel Mills silver and silver gilt snuffbox (Lot 1092), sold for £360.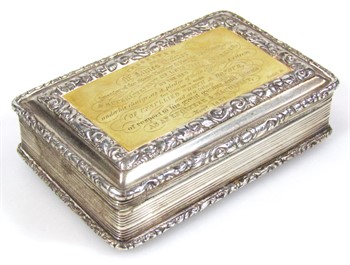 The fine quality bijouterie and cabinet collectables also broke rank with estimate, with Lot 1186 the William IV gold medallion commemorating the coronation selling for £2,800, outstripping the £700-£900 estimate which these commonly realise. Also, Lot 1187 the Pistrucci coronation of Queen Victoria gold medallion at £3,200 against a £900-£1,200 estimate has reputedly created new record prices.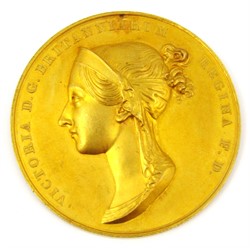 The undoubted star of the sale was Lot 1200 the George III micro-mosaic box, with a wonderful chased case depicting a perplexed Cupid chained to a rock after Giovanni Pickley, which was used in all of the pre-sale publicity. £12,500 was the eventual hammer price for such an item of beauty measuring just 52mm x 33mm.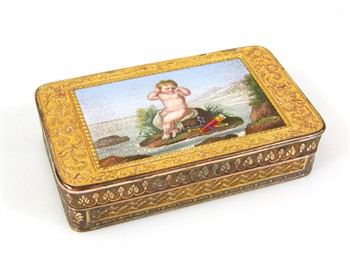 Amongst the ceramics included Lot 1228 an early Derby porcelain group with damages going ten times over estimate to £2,000. An intriguing result was four Nantgarw serving dishes, the first of which doubled its lower estimate, selling for £1,000 and the following three lots failed to get a bid. Auctions often throw up unpredictable results. Amongst stock favourites are a Royal Worcester vase and cover, decorated by John Stinton and Lot 1236 an example with Highland cattle realised £2,400.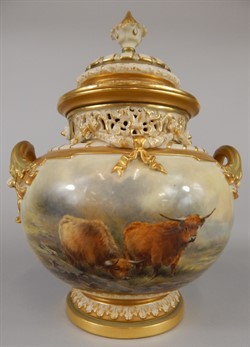 Following this was a small selection of furnishings including Cotswold Gimson style cabinets, being Lots 1240, selling for £2,800 and Lot 1241 selling for £1,900.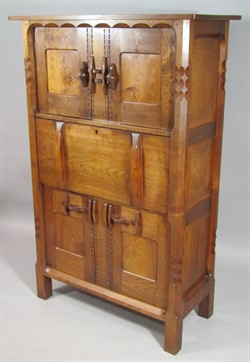 The finale for the day's proceedings was a selection of jewellery with Lot 1245 turning out to the star in more than one way. Five six point star emblems raced on with bids to £10,000 and thereafter a long haul of slow bids between the room and the telephone finally secured the lot at £26,000.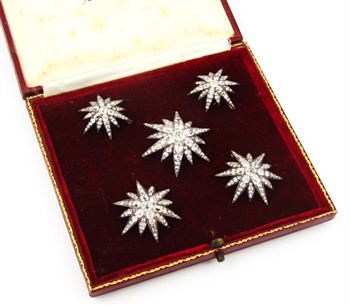 With this result under the belt every other lot was rapid fire bidding, with Lot 1246 the French diamond pendant earrings realising £9,000, Lot 1250 a George III 18ct gold circular box taking £3,200, Lot 1258 a cameo shell in the form of a male head saw the hammer fall at £650, Lot 1259 a graduated bracelet of shell cameos with dancing and cavorting figures outstripped its estimate at £3,400 and Lot 1260 a Victorian diamond triple set crescent brooch weighed in at £5,800.