A fabulous sale was rewarded with a fantastic total when over 750 lots went under the hammer at the Grantham Auction Rooms on June 4, 2014.
An O-Gauge LMS Hornby train, with a selection of larger tin plate trains and accessories came up early in the sale. Hornby trains from this era are rare and quantities of such items exceptionally so.

Saleroom manager, Andrew Doubleday said: "The condition of this lot was first class, to excuse the pun. Bidding in the room and on the internet was brisk, with the gavel falling at £2,000."
Elsewhere in the sale Silver is a solid investment and with an array of strong bids; buyers are willing to collect the item itself rather than pay for what it weighs. Lot 3, a George V inkstand sold for £130 and Lot 101, a Victorian silver three piece bachelor's tea service sold for £220. Two examples that highlight the decent prices continually being achieved.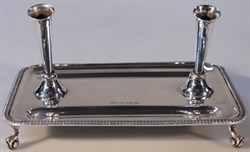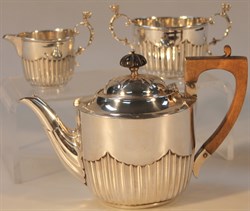 The Jewellery section continues the theme, good quality brought good prices. Lot 759, an early 20thC Lemania gentleman's chronograph or navigator's wristwatch at £850 showed the enthusiasm buyers have for the quirky, rare and high quality items.
Topping the sale figures not only for the porcelain section, but for the day as a whole, Lot 70 a Meissen 11 piece monkey band figure group fetched £3,000. This lot was surrounded by strong figures, for example a modern Meissen part coffee service - of undoubted quality but little age - fetched £900.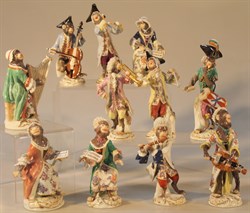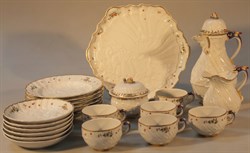 Saleroom manager, Andrew Doubleday said about the porcelain section of the sale: "This 200 lot-strong section of the sale had hands up everywhere in the room, with people travelling from miles to see and buy. We had internet bidding from buyers as far away as Germany, Eastern Europe and the USA. It reminded us of sales gone by; people in large numbers wanting high quality, ornate items. A quantity of good makers such as Dresden, Meissen and Sitzendorf provided the lion's share of the items and their high quality was reflected in the high prices."
There was also a number of strong prices for modern paintings, the odd surprise in the bygones - stamps and postcards led the way with several multi-hundred pound bids in each category - and a stronger than expected furniture category. These all combined to put the value of a great many different items in good health for the future.
The saleroom is now accepting consignments for the July Collective sale which will take place on July 9, 2014. Interested parties can visit the Grantham Auction Rooms on Old Wharf Road, between 9am-1pm and 2pm-5pm or call the saleroom on 01476 565118.