A lifetime collection of over 1,800 gnomes amassed by one of Lincolnshire's most colourful characters is being sold at auction.
Ron Broomfield, known as 'Ron the Gnome', began collecting the cheerful figures after he became depressed when his marriage broke down in his early 30s. Over the next 50 years, he made gnomes his life – collecting gnomes, taking his favourite gnome everywhere with him, living in Gnome Cottage, appearing on numerous TV shows and in newspapers and raising thousands of pounds for the NSPCC.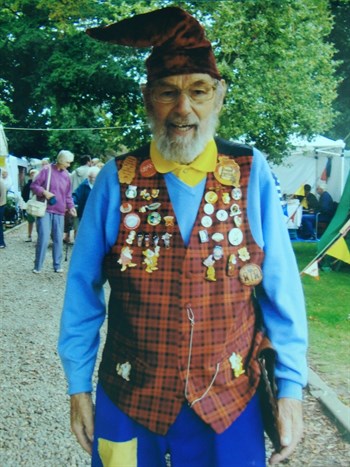 Sadly, Ron passed away in April this year and now his collection of gnomes is being sold at The Lincoln Auction Rooms of Golding Young & Mawer on Wednesday, July 15th. The proceeds will be donated to the charity, Alford First Responders.
Auctioneer Kirsty Young said: "It is nice to see such a large collection that clearly has been cherished from start to finish. When large, single owner collections come under the hammer, it is great to have such provenance."
Born on June 27th, 1934 in Finchley, North London, Ron was the youngest of nine children of John and Maud Broomfield. He had a happy childhood and often recalled how his sisters had once left him in Woolworths by mistake!
When he left school he worked on a pig farm, then as a builder and later as a window cleaner. He married in the early 1970s and was divorced four years later. His niece Patricia Hammond from St Albans said: "Ron became very depressed due to the break-up of his marriage. His doctor recommended he take up a hobby and he was later passing a shop that had gnomes in the front window and thought they looked cheerful.
"He bought the gnomes, took them home and they kept smiling at him. After that, every time he saw a gnome he bought it and he would ask for gnomes as presents for Christmas and birthdays and was very disappointed if you didn't buy him one.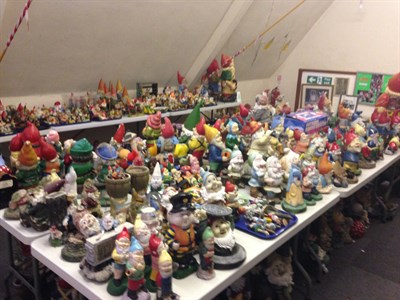 "When the children of Finchley walked past his house and saw his beard, they said he was starting to look like a gnome and suggested he dress like one too so he did."
When Ron retired in 1996, he moved to Alford to live with his sister Grace, who was Patricia's mum, and took his then-collection of 700 gnomes with him. Later he bought a cottage which he named Gnome Cottage and lived happily with his gnomes.
Over the years Ron collected over £3,000 for the NSPCC by walking round Alford dressed as a gnome, appearing on TV programmes including The Alan Titchmarsh Show during which he was presented with a gnome which looked like the host and The One Show and in newspapers. His greatest ambition was for his collection to be featured in the Guinness Book of Records however he never collected more gnomes than Ann Atkin of The Gnome Reserve and Wild Flower Garden in North Devon.
Patricia added: "Ron's favourite gnome was called Sandy. He took him everywhere with him including to work and on holiday and he wrote a book with pictures of Sandy's travels. In his will, Ron wanted his family to choose a gnome each and I chose to adopt Sandy and give him a good home."
Ron was cremated dressed in his gnome outfit complete with pointed hat and waistcoat. After a ceremony at St Wilfred's Church, Alford, he was cremated at Alford Crematorium and his ashes are set to be scattered at the family tree in Alford. Donations at the church enabled £340 to be split between the NSPCC and Alford First Responders.
Patricia said: "Ron was a lovely, sincere man and everyone in Alford thought the world of him."
For information about the collection visit Golding Young & Mawer or call the Lincoln saleroom on (01522) 524984.