A gentleman's watch is a symbol of status, prestige and success, and none more so than two watches offered for sale at the Grantham Auction Rooms on March 5.
They may come from two different eras, but the 19th Century open face pocket watch by William Ilbery of London and the modern limited edition Breitling Navitimer offer precision watch making at the highest level.
Pocket watches rose to popularity in the 17th Century when gentlemen began to wear them in their pockets as opposed to a chain around their necks. They were considered a luxury item for the elite and cream of society.
William Ilbery of London was a watchmaker of some skill operating out of London in the late 18th, early 19th Century. He was known for making pocket watches of very high quality for the Chinese export market.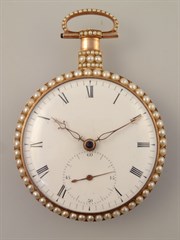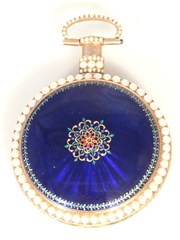 Lot 5 is a particularly lovely example of his work. There is a key wound duplex movement in a rose gold and pinchbeck case. The dial is white enameled and the bezel is set with fifty pearls. The reverse case is pearl set bezel and French blue enameled with a radial fan design and gold inlaid rosette centre within a foliate sprig border.
The fortunes of the pocket watch started to wane around the time of the First World War when the navy issued wristwatches to their sailors. This was a trend that caught on around the world and was furthered with the demise of the three-piece suit in the mid-20th Century.
In stark contrast Lot 7, a gentleman's Breitling 18ct gold automatic Chronometre Navitimer, is a modern wristwatch of the 21st Century.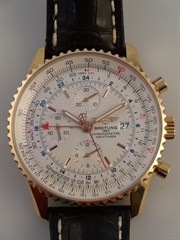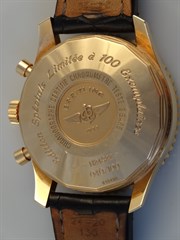 Breitling, a swiss company, started making watches in 1884 and the Navitimer, with its circular sliding rule, has always been associated with Aviation. Whilst modern technology negates the need for a slide rule today, it is still a much loved feature of this very sought after watch.
Lot 7 is a limited edition number 40/100, and is also numbered H24322 and 610496. It features a black Breitling leather mock crocodile strap and an 18ct gold Breitling buckle.
"Whether you're looking for something a little eccentric in the pocket watch or the exclusivity of the Navitimer, the buyers will take away a real treasure on the day. I can see them appealing to fans of aviation, watch collectors and historian buffs." Said Grantham saleroom manager Andrew Doubleday.
Viewing will be open between 10-4pm on March 4.
The live auction will take place at The Grantham Auction Rooms on March 5, from 10am. The full sale catalogue can be viewed online at www.goldingyoung.com.