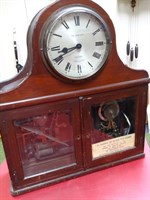 Star lot of the October Collective sale at the Grantham Auction Rooms was undoubtedly Lot 307, an electric slave clock by Gents of Leicester which sold for £3,800.
Luke Handley, Resident Auctioneer & Valuer said: "This was a relatively rare item as they don't come up for auction very often. Lot 307 was the master clock, which would set all the clocks in an office or factory to the same time - particularly useful where you've got people clocking on and off."
Gents of Leicester was started by John Thomas Gent in 1872. They gained a reputation around the world for producing electric clocks for public buildings and railway stations.
In their hey-day, they produced a multitude of electrical equipment including; fire alarm systems, telephones, signalling and recording equipment, aircraft parts and radar equipment. Today, they are part of the Honeywell group and focus solely on fire detection and alarm systems.
There was a lot of interest in the item on sale day. The bidding opened at the top estimate of £800 with bids coming from the room, commissions and the internet. The final bid was in the room provided by an avid collector.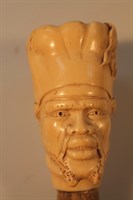 Elsewhere in the sale Lot 2, a carved ivory African chief's head decorative cane sold for £700 to a London bidder over the telephone.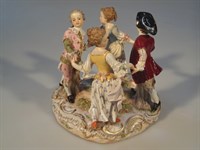 Lot 12, a charming 19th century Meissen figure group of four dancing children also sold to a telephone bidder for £1100.