A collection of paintings by a well-known local artist, amassed by a former Mayor of Grimsby, will go under the auctioneer's hammer in Lincoln.
Long serving councillor and former Mayor of Grimsby John Colebrook died at his home in Waltham Road, Scartho, aged 75, on Boxing Day 2012 and his wife Pat passed away aged 62 in August this year. Now Mr Colebrook's collection of watercolours by well-known local artist Colin Carr (1929-2002) will be featured in the Fine Art Sale at auctioneers Golding Young & Mawer on Wednesday, October 23 at 7pm.
Auctioneer William Gregory said: "This is a really interesting collection of paintings, many with local themes, by a well-known Grimsby artist. There is a strong collectors market for Colin Carr artwork and we expect a great deal of interest on the viewing days and on the evening of the auction."
The nine paintings in the sale include 'Grimsby fire engine' which has an estimate of between £200 and £300, 'Grimsby fishing docks' which is signed and dated 1982 and has an estimate of between £120 and £180 and 'Grimsby trawler in dock', signed and dated 1997 which is expected to sell for between £150 and £250.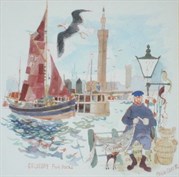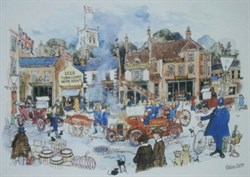 There is also 'The Grocery Shop, Caistor', signed and dated 1995 and 'Lincolnshire Summer' which is signed, titled and dated 1995, which both have £120 to £180 estimates.
Born in Grimsby in 1929, Colin Carr studied at Grimsby School of Art and was the editor of Lincolnshire Life and Art Editor of This England. A freelance artist, he specialised in book illustrations, record sleeves and greetings cards.
He produced hundreds of nostalgic and humorous paintings with whimsical characters, many featuring his black cat and the local bobby. His work is featured in several public and private collections - Mrs Thatcher was said to own one - and he was once presented to the Queen and Duke of Edinburgh when one of his paintings was presented to the Queen by the Chief Constable of Lincolnshire on the official opening of the new Police Headquarters in Lincoln.
Mr Colebrook was born in Grimbsy Hospital in 1937 and attended St James' School before working in the family pet food, grain and seed shop, H. Colebrook & Son in Red Hill. He left to work on the Humber before becoming an agent for an MP in Yorkshire and starting as an administrator for two care associations. At the time, Pat worked in the same industry and the couple met and married in 1997 on Mr Colebrook's 60th birthday.
He was first elected to Great Grimsby Borough Council in 1975 and was the final Mayor of Grimsby in 1995-96. He became Mayor of North East Lincolnshire from 2009-10 and was also chairman of the North East Lincolnshire NHS Trust and vice-chair of the North Sea Fisheries Commission.
His wife Pat was also born in Grimsby and worked as a nurse at the former Springfield Hospital in the town, then became general manager of FA Woulds. She left to start a private care agency before establishing Farringford Care Agency. She served one term as a ward councillor for Scartho between 2008 and 2012 and was Mayoress with her husband in 2009-10.
Mrs Colebrook also served on the local adoption panel, helped at the Women's Refuge and was a governor at the Lisle Marsden School.
Charlotte Taylor (34) from Grimsby, who is Mrs Colebrook's daughter, said: "My step-father loved collecting anything to do with Grimsby and had lots of old books on the town and lots of paintings of trawlers. The paintings by Colin Carr were all on display in their home."
Viewing days for the Fine Art Auction are on Sunday, October 20 from 2pm to 5pm, Tuesday, October 22 from 10am to 4pm and on Wednesday, October 23 from 2pm to 7pm. The auction begins on Wednesday, October 23 at 7pm.
For more information about sales at Golding Young & Mawer log-on to www.goldingyoung.com or phone the Grantham saleroom on (01476) 565118 or the Lincoln saleroom on (01522) 524984.