Fans of Formula one will be flocking to the workshops of former racing team BRM, where F1 memorabilia is sure to set hearts racing in the saleroom.
The memorabilia - offered for sale by auction - are panels from F1 cars driven by veteran Rubens Barrichello and three times World Champion Nelson Piquet.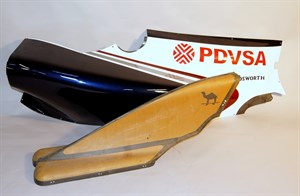 Lot 23 is an airduct intake panel from a 1989 Camel Team Lotus F1 car and driven by Nelson Piquet. The panel is unique as the Lotus team only ran 1 Lamborghini engine during the season and this panel will only fit that car. It was discovered during a house clearance and belonged to a former Lotus employee.
Lot 11 is an airduct intake panel from the Williams FW33. A car that was developed for the 2011 Formula One racing season and was driven by teammates Rubens Barrichello and Pastor Maldonado.
Saleroom manager, Alastair McPhie-Meiklejon said: "There is a growing interest in sports memorabilia; interesting bits, unique parts on a car that was raced or anything with a piece of history. I've seen used tyres from formula one cars sell for thousands, to be converted into coffee tables. It's seen as pretty cool to own something that has been driven around a famous racing circuit at speeds in excess of 200mph. I'm expecting a lot of interest in the Lotus panel especially."
The items go under the hammer at the Bourne Auction Rooms on January 22. The full sale catalogue can be viewed online at www.goldingyoung.com.
The Bourne Auction Rooms are now accepting items for the February 19. Free valuations take place at the auction rooms every Friday between 9am and 1pm or call 01778 422686.