Exceptionally high prices were achieved for silver and jewellery in the October sale at the Lincoln auction rooms.
In what auctioneers described as a 'sell out', each item sold for either its highest estimate or far exceeded all expectations at the sale at Thomas Mawer and Son of Portland Street on Saturday (October 2).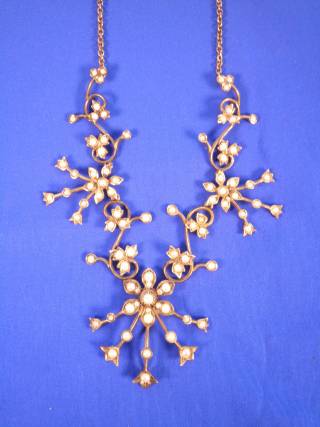 Auctioneer William Gregory said: "Within a packed and vibrant Saturday sale, the silver and jewellery section exceeded all expectations with every lot selling at its top estimate and some making two or three times the predicted hammer price.
"Competition was fierce between bidders in the room, on the telephone and those bidding live over the Internet and we are delighted with the prices achieved."
Among the lots, a Victorian seed pearl and gold necklace with a fine chain made £400, a gold rope twist-type ring and five pairs of gold, and other metal, earrings made £350, well above its £150 to £200 estimate, and a gold filigree necklace, expected to fetch between £150 and £200, made a hammer price of £350. A hollow gold bracelet, three gold and yellow metal chains and a gold necklace with an Arabic script pendant made the top estimate of £500, whilst and a silver cigarette case with a hammered decoration of stylised tulips surrounding a beaded rectangle, made in Birmingham in 1904 and with a makers mark of WHH, made £100, well above its estimate of £20 to £30. Sovereigns also made good prices in the sale, with a 1912 sovereign fetching £160 and a 1918 sovereign, and another dated 1903, making £170 each.
Elsewhere, a glass plate made to commemorate the
death of Matthew Flinders, one of Lincolnshire's most famous men, fetched its top estimate of £40. The plate, which was bought recently at a carboot sale for less than £5, was engraved with a map of Australia and Flinders' ship HMS Investigator, and read: 'Matthew Flinders 1774.1814. Commander of HMS Investigator. The First Person to Circumnavigate Australia 1801. 1803.'
Born 1774 in Donington, near Spalding, Lincolnshire, Matthew Flinders was the first person to circumnavigate Australia and the person who suggested that 'Terra Australis' be named Australia. As captain of HMS Investigator, Flinders sailed around Australia between December 1801 and June 1803, charting and surveying the entire coastline as well as islands, bays and headlands.
He named several places after members of his crew, including Memory Cove which he named after eight men who drowned whilst searching for fresh water, the harbour Port Lincoln after his home county and a group of islands after the botanist Sir Joseph Banks.
The furniture section contained two Victorian mahogany haberdasher's display drawers which fetched £500 each. Labelled as 'Pollards Patented Kwikserving Fixtures', made by E. Pollard and Co of Clerkenwell, London, the free standing units are popular with fashionable shops, as unusual kitchen storage units or for collector's display cabinets.
Meanwhile, an early 19th century mahogany and brass military chest fetched £240. It would have been used by officers as they travelled around various military campaigns.
Entries are still being invited for the four-day antique sale at Golding Young of Grantham on November 3 and 4, and Thomas Mawer and Son on November 5 and 6.